Humphreys sets school record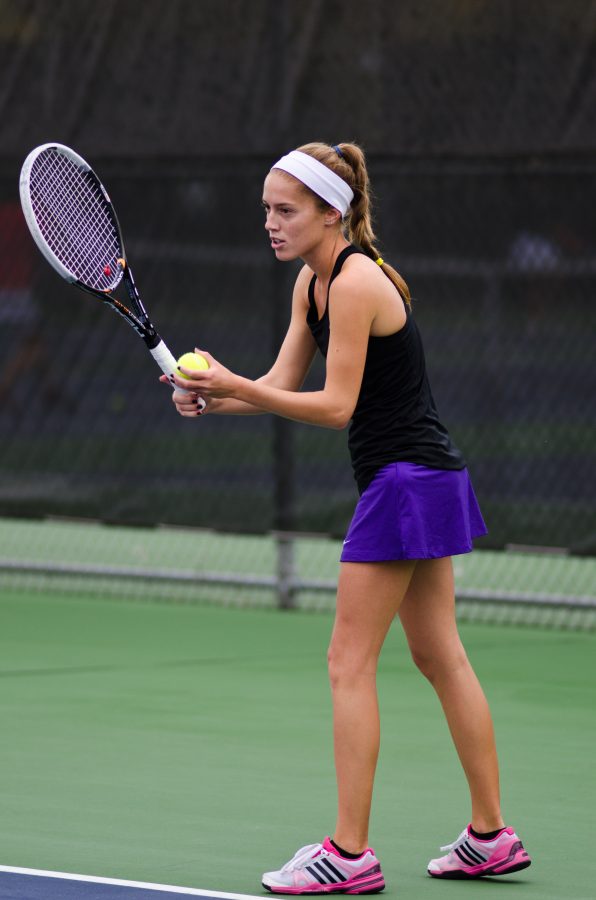 Oct. 15, 2014 By Ryan Altman
Megan Humphreys remembers her early exit from the main draw at the 2013 Division-III Intercollegiate Tennis Association Small College National Championships, having faced the top-seeded singles player in her first match.
The unseeded sophomore singles player was out to avenge last year's fifth-place performance this past weekend in Sumter, South Carolina, with the opportunity to become the 'Hawks' highest finisher at the event in program history.
"It felt pretty great to win the first round match and get past where I lost last year," Humphreys said. "I'd say it was also my favorite match because it was such a big comeback. I'm really proud of what I accomplished."
Humphreys did erase her previous disappointment, winning two three-set marathon matches, including a first round victory against No.2-ranked Sofia Vega of Texas Lutheran, en route to a runner-up finish at this year's championships.
After dropping the first set against Vega, Humphreys battled back to win the second, forcing a deciding third set.
She faced a 3-1 deficit before rallying to win the set and match, 2-6, 7-5, 6-3.
"I incorporated more offense and tried to win more points at the net instead of just playing defense," Humphreys said.
Three set matches are rare for Humphreys, as she has only played in two three-setters this season in singles.
She has compiled a 19-2 record at No. 1 singles for the 'Hawks, including a 4-0 record in conference play so far.
In her semi-final match, she needed another three sets to beat unseeded Kate Christensen of Vassar College, 6-4, 3-6, 6-4.
"[Megan] showed a lot of mental toughness," head coach Frank Barnes said. "She had to come back in all the matches against some of the toughest competition she's seen."
Freshmen Alicia Beck and Bridgid McGuire, who won the ITA Regional doubles title back in September, saw the Small College National Championships as an opportunity to grow as student athletes. As partners, the duo have combined for 14 victories at No. 1 and No. 2 doubles, having lost only four matches total this fall.
"I didn't really know what to expect going into the tournament," Beck said. "Overall, it was a great experience. I felt I grew both as a player and a teammate, supporting my doubles partner, and I narrowed down what I need to improve on going forward."
Entering as one of four unseeded pairings, Beck and McGuire were matched up against the doubles draw's No. 1 seeds, Caroline Ward and Katie Kuosman of Claremont-Mudd-Scripps in the first round.
They dropped the match in straight sets, 0-6, 2-6, falling into the consolation bracket.
In the consolation rounds, Beck and McGuire suffered another pair of defeats to teams from Emory College and New York University, placing eighth overall.
Despite the losses, Barnes said he was proud of the way the two competed all weekend.
"[Beck and McGuire] gave it their all," Barnes said. "They didn't play as well as I might have thought, but for freshmen on a big stage for the first time, I think they gathered some good experience for the future."
As the 'Hawks' regular season wraps up, Barnes looks for a strong finish to conference play.
The team (7-0 overall, 4-0 WIAC) has won 60 straight WIAC dual meets and have two remaining against UW-River Falls and UW-Stout.
Both will be played consecutively on Oct. 18 in River Falls and Menomonie.
Last year, the 'Hawks notched a pair of 9-0 victories over both teams.
"It's great because we have some top reserves that are going to get some good experience," Barnes said. "We're looking forward to that and being on the road."
Following the conclusion of their conference schedule, the 'Hawks travel to Madison for the 2014 WIAC tournament, where the team will look for its eighth consecutive conference title. Since Barnes became head coach during the 2003-2004 season, the 'Hawks have not finished lower than third in the WIAC.