Warhawks ranked preseason No. 1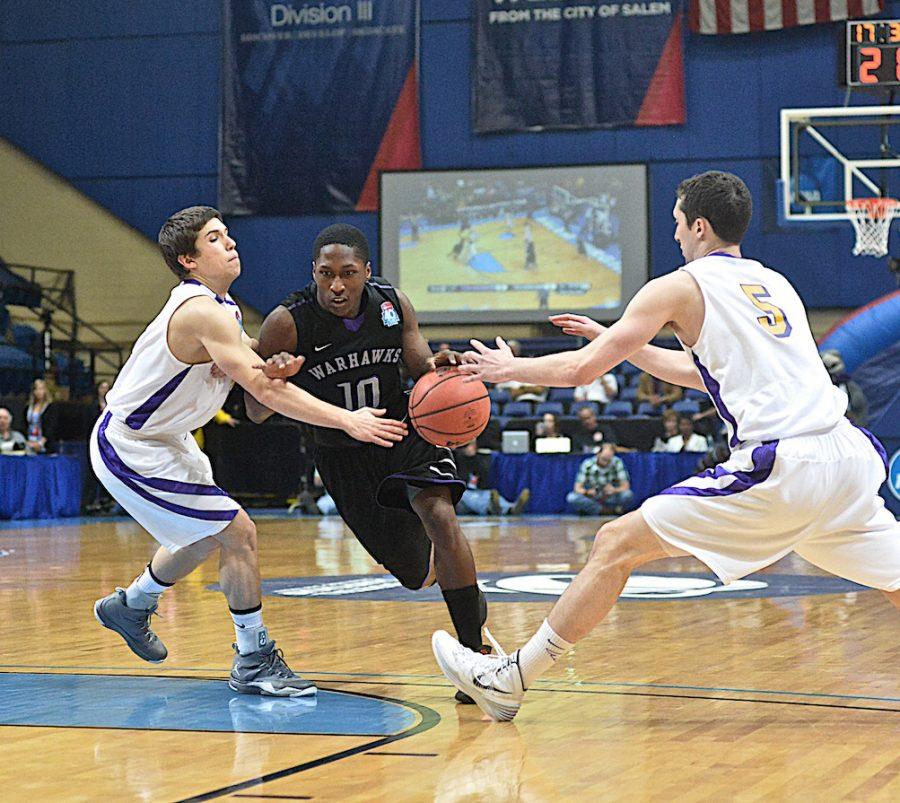 Nov. 12, 2014 By Justin St. Peter
After losing three starters and a key player of the bench from last year's national champion squad to graduation, one would think the Warhawks' mens' basketball team might take a step back this year.
Don't tell that to this year's team.
The 'Hawks have been picked to finish first in the WIAC by all the head coaches and sports information directors from the conference. The 'Hawks are also ranked preseason No. 1 in the country by D3hoops.com.
When asked whether he takes any stock in those predictions, head coach Pat Miller simply said, "No, not at all.
The 'Hawks will lean on the Most Outstanding Player of the NCAA Tournament forward KJ Evans. Evans was an honorable mention All-American and averaged 17.3 points and a conference-leading 8.2 rebounds per game last year.
Evans turned it up even more in the last two games of the season where he scored 30 in the national semifinal and 22 in the championship game.
With 4.9 seconds left in the championship game, and after Williams University had just scored to get a one point lead, Young took the inbounds pass, raced up the court and hit the game-winning layup while getting fouled with .9 seconds left on the clock.
Young hit the free throw, and the 'Hawks were national champions. Young's shot was the top play on Sportscenter for the day.
"We came up short my sophomore year after winning my freshman year," Young said. "The people that were still here from that freshman championship wanted that feeling back."
Young was a first team All-WIAC selection for the second time in his career last year, after averaging 10.7 points, 3 rebounds, and 4 assists per game.
"Having two guys back like KJ [Evans] and Quardell [Young] and being the defending national champions is why they ranked us so high," Miller said.
They will be joined in the starting lineup by senior guard Cody Odegaard and senior center Steve Egan.
Odegaard averaged 5.3 points per game and shot 39 percent from beyond the arc last year.
Egan is the final returning Warhawk that played in all 33 games of the season last year. The six-foot-6-inch forward averaged 5.4 points and 3.8 rebounds per game, while only averaging 13 minutes a game.
"All of those guys bring a wealth of experience and different skill sets that certainly give us a great nucleus going forward into the year," Miller said.
Miller said there are question marks for this year's team after going through the first few weeks of practice.
"The key for us is going to be getting the new guys acclimated and getting them to understand how we have to play," Miller said. "Defense and rebounding are     definitely areas of concern."
After going 29-4 during last year's championship run, the 'Hawks open up the schedule playing the Cardinal Stitch Wolves at 7 p.m. in Kachel Gymnasium on Nov. 15. The Wolves were 30-4 last year and return seven of their top eight players.
The 'Hawks will then be on the road for the next five games before hosting UW-Platteville at 7 p.m. on Dec. 6.
Young cannot wait for the season to begin.
"We have a lot of players that can play various positions that will give defenses problems within this conference," Young said. "It is going to be a fun year to say the least."
Miller has big goals in store for the Warhawks who now own four national championships tying them with UW-Platteville for second all-time at the Division III level. North Park University leads with five national championships.
"My goal, being an alum having played here and now being entrusted with the stewardship of this program, is to get to the point where we have more national championships than anybody in Division III," Miller said.