Outside the wire: Cavalry Scout on a mission to inspire others through wellness and fitness
Nov. 12, 2014
By Vesna Brajkovic
At first glance, Thomas Slaten looks like a typical college student: casual and relaxed, sporting a hoodie and sweats. The only thing that could possibly give him away is his standard military cut.
Enlisted at 17 and deployed to Iraq by 19, junior Thomas "Tom" Slaten of the U.S Army National Guard is one of the minority; a student in the military.
"I was 19; I was in Iraq, and I was in a war zone," Slaten said. "It matured me instantly. You now have more responsibility than any 19-year-old in the whole world has… You're 19 years old and you're in charge of protecting people in a combat zone… It matures you very fast."
Slaten, 25, is a cavalry scout (19D) in the National Guard. A cavalry scout is responsible for duties such as securing and preparing scout vehicles, performing navigation during combat, collecting data and reporting information on terrain, weather and enemy surveillance, according to goarmy.com.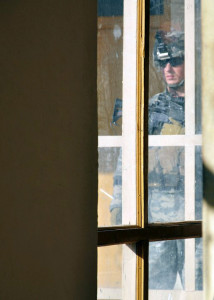 In high school, Slaten enlisted in the Army. After his junior year of high school he attended basic training. Senior year of high school he attended advanced individual training (AIT) where Slaten trained for his specific position. After graduating high school in June 2008, he deployed by January 2009 to Mosul, Iraq. From 2010-2011 Slaten volunteered to deploy to Afghanistan.
"Maturity level is completely different; my outlook on life is completely different being in a third-world-country for a year," Slaten said. "You take for granted everything you have here until you go and see a country like that and see how other people are living. No running water, no TV. You see how they live and how they can still keep a smile on their face and live their lives. It makes you realize that you have foot to stand on when you're at home and complaining, because you really don't. It humbled me big time."
Slaten is still active duty in the military until 2018. He drills and trains once a month in Watertown.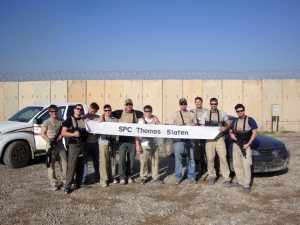 Being in the military lead Slaten to his new mission: perusing human health and performance at the University of Wisconsin-Whitewater and hoping to tack on a strength and conditioning minor next fall.
While on deployment, Slaten found his love for CrossFit. A program developed to offer a full-body workout, CrossFit incorporates elements of weigh lifting, cardio, weight lifting and core training, among other things.
While doing the "conventional working out" Slaten said he saw some people doing a CrossFit workout and decided to give it a try.
"I did it and the first workout I almost vomited," Slaten said. "I realized it was a lot tougher than I thought it was. And I realized I wasn't as in as good of shape as I thought it was. So I started doing that regularly overseas. When I got home I ran into some people I've never met before, and a few months later, next thing I knew, we opened a CrossFit gym."
One of those people was Eric Stockman, a then stranger to Slaten, who later found himself standing up in his wedding and becoming business partners and "brothers."
"We [Stockman and his wife] were just doing our workout one day and we saw Tommy [Slaten] – didn't know him then – across the room doing a very intense, high-intensity, boot camp style workout, and he was just beating himself up," Stockman said. "I was intrigued because A) not only was he an amazing athlete, but B) he wasn't taking any breaks; he was just going all out 100 percent."
After introducing himself and explaining he wanted to start a gym, the rest was history. The first gym was started, CrossFit 868.
"He helped us make this dream come true to start CrossFit, and we did the same for him," Stockman said. "So we got a life-long bond to do CrossFit together."
Slaten has been a trainer at the CrossFit 868 gym for four years in Milton, and manager at one in Janesville, CrossFit 608. These gyms hold group-like classes that are guided by the trainers to ensure proper form and movements, and are developed by them specifically for their members.
"As a CrossFit coach – an excellent one – Tommy is meeting new people every day and he's training them to become more fit… The quicker you can gain someone's trust the quicker you'll be able to get them on board with your program so they can meet and achieve their goals," Stockman said about the role Slaten's military experience plays into being a trainer. "I think Tommy being in the military is just one more notch on his belt he can add to his awesome character."
CrossFit 608 in Janesville is open for classes Monday through Friday at 5:30 and 6:30 a.m., 5:30, 6:30 and 7:30 p.m., with an additional 11:30 p.m. Monday-Wednesday-Friday class offered at 924 N. Parker Dr.
Tuesdays at 6:30 p.m. a free introductory class is offered to anyone interesting in trying CrossFit, no matter the skill level.
For three classes a week the cost is $80, or $110 for unlimited. There are police, fire, military and student discounts offered.