Students venture in e-sports
Dec. 10, 2014
By Rumasa Noor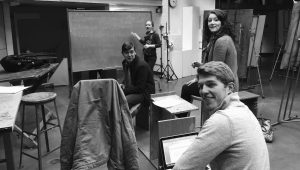 With increasing use of technology, the popularity of e-sports is seeing new heights.
Journalist Nick Wingfield from New York Times reported that universities like Harvard and Florida State also are seeing a sharp rise in the popularity of gaming competitions. UW-Whitewater students and avid gamers Jake Smith, Cameron Robinson and Greg Heal decided to create a platform to bring e-sports enthusiasts together. The three are in the developmental phases of creating a website, Leaguer, which is the first product of their company: eSports LLC.
"We are trying to create a place where gamers, who are not professional, could come together and hone their skills and get better at their individual electronic sports game, be it League of Legends, Hearthstone, Dota 2," Robinson said. "We are just trying to create kind of the home for people to come and play together and kind of make themselves better at their video games."
He said the idea of Leaguer was conceived by Smith, Leaguer's CEO. He introduced the idea to Robinson and a few others through a Facebook group chat. The two then took a course in web design, where they decided to team up and pursue Leaguer for a class project, said Robinson, the current chief operating officer (COO) of Leaguer.
Heal, Marketing Officer for Leaguer, is a new addition to the team. Robinson met Heal at the Collegiate Entrepreneurship Organization (CEO) Nationals this year, where Robinson first acquainted him with the idea.
The students are a part of the Launch Pad program at UW-Whitewater and are also involved with the Law & Entrepreneurship Clinic in Madison.
"We get free legal advice from UW-Madison," Robinson said. "We have a student attorney up there, and we also have a faculty attorney who reviews all of his work. We are not in concept phase anymore, we are more in throes of development and research."
One of their goals is to attend huge gaming expos such as the Penny Arcade Expo (PAX) to promote Leaguer and make it known to gamers, Robinson said.
"This niche market is exploding with an exponential rate, you know, from South Korea to Western Europe to the United States of America," Heal said. "I just really want to see our product and our business grow because it's not just a one time purchase or a one time event. They will be continuously going on creating more teams and going to a lot of our tournaments that will sustain us."
Robinson said the size of the gaming audience could be imagined by comparing audiences at League of Legend championships to audiences at the MLB World Series and even the Super Bowl; it is bigger than the audience at both of these events.
Smith established a League of Legends club at UW-W, which attracted a wide variety of people since the beginning. The problem was they weren't able to play in any tournaments, which led to the inception of Leaguer, Robinson said.
"One of our huge main features is a calendar; you actually take your team, you go and make an event on a calendar," Robinson said. "The Whitewater League of Legends club will actually be able to utilize this in the sense that they could actually go and make brackets for themselves, make tournaments and run tournaments."
Leaguer will offer a "player card" which would provide information about gamers such as, their reputation statistics, what type of player they would like to play with and such, according to Heal.
Leaguer also has a platform team builder that allows gamers to find teammates similar to themselves.
"We want to connect with the gamers and build a huge community based around this," Robinson said. "For the future we eventually want to grow and expand it; there is a lot of things that are on the back burner that we can't actually do for development."
Robinson said they went to the MAGD Expo this year where they won Entrepreneurial Concept Award. It also encouraged them to take this idea further.
"We want to launch before E3 which is the Electronic Entertainment Expo, biggest trade show for video games in the world, hosted out in LA and we were going to go to PAC south which is in Austin, Texas," Robinson said.
Leaguer has a blog that the team updates on a weekly basis to familiarize people with it and take them through its development process.
"We are not trying to be the Facebook of video games," Robinson said. "We are trying to create our own social media site where we can go and really express yourself as a gamer."
Robinson also touched on wanting to develop a "reputation system" to make it easy to find players who are not insensitive to others.
"There is a thing called toxicity in the video game world where players are just mean," Robinson said. "They end up being mean because their team doesn't perform well, kind of like a baseball game where a fielder doesn't catch a ball or something his team will get on to him. It's a little bit more brutal in the video-game world because it's anonymous."
Heal said he is excited for the launch date. The Open Beta of Leaguer will be launched in June, Robinson said.
To learn more about Leaguer, visit blog.leaguer.io.