Oct. 22, 2014
By Alexandria Zamecnik
By Andrew Marvitz
There is the old saying that you can't judge a person until you've walked a mile in their shoes. Some people don't ever get the chance.
UW-Whitewater students were given that opportunity at the Boxes and Walls program which was held in the Esker Dining Hall from Oct. 13 to Oct. 16.
"Boxes and Walls is an interactive diversity experience created for UW-W students and the Whitewater Community," said Terry Tumbarello, associate director for Residence Life, in a letter to faculty and academic staff.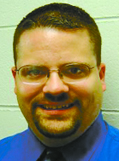 The program showed African-American, Latino/Latina, disability, LGBT, gender and socio-economic status experiences.
Participants were faced with challenges that simulated these types of oppression. These challenges included: an obstacle course which was difficult to navigate in a wheelchair, a lecture through the lens of a learning disability, a game of checkers with a visual impairment and the navigation of social scenarios with a non-dominant sexual orientation or identity.
Cassie Steiner, an international studies major at UW-W, helped organize the interactive activities that students participated in while waiting for the tour.
Steiner said it's important for students to participate in these types of events.
"I think that engaging in issues of diversity, privilege and opression is very important," Steiner said. "It offers a new perspective and creates a more understanding, accepting and healthy community.
Steiner went through the program three times this year: Once as a run-through, once on her own and once with her residence hall floor.
"I love Boxes and Walls because it has something to offer students of different levels of comfortability with diversity," Steiner said. "If this is the first time a student has attended a diversity program or engaged in meaningful conversation about diversity, it is a great place to start and offers many eye opening experiences."
Boxes and Walls has been coordinated every other year since 1999, but due to the high demand, Residence Life decided to host the experience annually, according to Tumbarello.Last year the event had 1,500 students attend.
After students finished the hour long tour, they sat down with a graduate counseling student to process the experience. This allowed the students to reflect on what they just learned.
Steiner said the program offers a lot to students even if they believe they already know everything.
"These conversations are never truly done, and there is always more to learn," Steiner said.
Steiner said she believes discrimination is still a problem today, both institutionally and interpersonally.
"Even in our campus community, there have been discriminatory actions like the recent hate crimes," Steiner said.