Jan. 28, 2015 By Ryan Altman
The UW-Whitewater men's tennis team will look a little different this spring with the addition of Michael Treis, a Division I transfer from Western Michigan.
After suffering a foot injury last fall, Treis, a junior, looked elsewhere for the opportunity to play collegiate tennis.
Treis, who is a native of Brookfield, Wisconsin, participated in several Warhawk Tennis summer camps during his childhood. He said his familiarity with the program made the decision to return to UW-W much easier.
"I gave Frank a call and asked him about the possibility of coming here to play," Treis said. "I always knew Whitewater would be a great fit, and it was a no-brainer for me."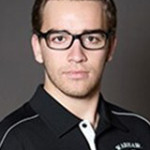 Treis spent the first two and a half years of college playing for the Broncos, in which he compiled a combined singles and doubles record of 43-41. He and his doubles partner Matt Hamilton went undefeated and were voted the Broncos' Doubles Team of the Year in 2014.
He joins a team which is looking for its fourth consecutive WIAC title.
The 'Hawks are led by junior Jake Humphreys, who is 88-31 in singles and doubles combined in his career. He reached the Intercollegiate Tennis Association quarterfinals in singles and semifinals in doubles with senior Ben Shklyar in 2014.
"Having Humphreys and Treis will create a force at the top of our lineup," Barnes said. "We have strength in both singles and doubles, and [Treis] adds to our depth overall."
Another player to keep an eye on is Cam Laktash. Laktash, a senior, was paired up with freshman Zane Navratil last fall, and the duo went 6-2.
He has accomplished a doubles record of 46-12 over a three-and-a-half-year span.
In addition to its WIAC opponents and several scholarship schools like UW-Green Bay and Cardinal Stritch University, the 'Hawks' also will be making a trip to Orlando over spring break.
Last season in South Carolina, the 'Hawks suffered a 5-4 upset at the hands of Colby College, who will be competing in Orlando.
Barnes hopes it won't happen again.
"They spoiled our spring break," Barnes said.
Season Opener Recap
The 'Hawks spring schedule began last Friday with a pair of dual meets versus Division I opponents Northern Illinois University and University of Illinois-Chicago, at the Boylan Tennis Center in Rockford, Illinois.
In Friday's opener against NIU, the 'Hawks (0-2 overall) suffered a 0-7 setback.
Treis and Shklyar won 7-6(4) at No. 2 doubles, but the 'Hawks dropped the other two doubles matches, earning the Huskies the lone doubles point.
"When I played [at Western Michigan], NIU was in the same conference (MAC) as us," Treis said. "It was one of the most heated matches of the season, so being able to get a win against them was huge."
Laktash forced a 10-point tiebreak against counterpart Kevin Daun at No. 4 singles, but suffered a 0-6, 7-6, 1-0 (10-3) defeat.
On Friday night, the 'Hawks collected a pair of doubles victories against UIC, earning the doubles point, but lost four of six matches in singles, losing to the Flames 3-4.
Treis and Shklyar moved up to No. 1 doubles and defeated Isaac Lloveras and Louis Theodor 7-6 (7-5). Treis also picked up his third win of the day at No. 2 singles, which was also his first competitive singles match since suffering a foot injury last July.
Humphreys won at No. 1 singles while Scott Butler and Martin Beck earned a victory at No. 3 doubles.
"We started off a little slow, but we played some good doubles," Barnes said. "With [NIU and UIC] at Division I, the play at singles was just at a different level."