'Hawks lose, miss alumnae
Feb. 11, 2011 By Paul Bressler
The UW-Whitewater women's basketball team, 9-12 overall and 4-8 in WIAC, lost 64-49 on Feb. 7 on the road to UW-Eau Claire and dropped its fourth game in its last five contests.
"I think we need to shoot the ball and make shots," head coach Keri Carollo said. "We've looked at our starts from the last four or five games, and we haven't shot the ball very well. I think making shots and seeing the ball go through the basket always makes everything a little easier."
The 'Hawks started the game slow, but cut the gap to 11-8 at the 12:08 mark.
The Blugolds answered with a 20-8 run and put the 'Hawks in a 15 point deficit. The 10-minute run put the team in a 31-16 hole before junior guard Abbie Reeves came up with a steal and a 3-pointer, cutting the deficit to 12. The two teams exchanged free throws, and the Blugolds took a 33-21 lead into the half.
"We just need to get better shots, because sometimes we're just passing it around the perimeter and shooting threes at the end of the clock," Reeves said. "We just need to put ourselves in a better situation to get easier shots by attacking or dumping it off into the post."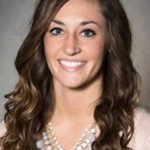 The 'Hawks played catch-up the entire second half. The team cut the deficit to 10 early but could only close the gap to as little as 12 in the last 13 minutes of the game.
The team lost the rebounding battle 39-28 and gave up 32 points in the paint while only managing to score 12 of its own.
"Everybody has to box out," Reeves said. "We just all have to box out instead of just a few of us or thinking they'll get the rebound."
Reeves led the 'Hawks with 11 points and five rebounds. Freshman guard Malia Smith accounted for a game-high six assists.
Former Warhawks honored
Former players Kaitlyn Thill and Amy Mandrell were honored during halftime at the team's last home game on Jan. 28.
Thill garnered dual honors last season by being named to both the Women's Basketball Coaches Association (WBCA) All-American first team and D3hoops.com women's All-American fourth team.
The accomplished guard is just the second 'Hawk to be named to the WBCA's first team. Only 20 'Hawks had earned the distinction before Thill, and she is just the 15th woman overall.
Thill may go down as the greatest thief in WIAC history. She currently holds records for career steals (428) and steals in a game.
"I started young," Thill said. "I learned the game pretty easily and fast, so I knew what players would be doing. I read their eyes and watched the ball."
Thill finished fourth all-time in scoring (1246) in Warhawk women's basketball history and second in assists (424).
"I've been playing since I was in third grade," Thill said. "It helped me bond with my dad over the years and made me really appreciate being a team member and a team leader."
Mandrell, a WBCA honorable mention, got her first real chance to contribute as a senior in 2013. She started in 31 of 32 games after being used sparingly (7.4 min) in her junior season. Mandrell excelled in her opportunity by averaging 11.9 points, on 50 percent shooting, and seven rebounds in just 22 minutes per game.
"Coach Carollo pushed me all four years of my career in practice and in games," Mandrell said. "She was always trying to bring out the best in me. Our coaches believe in all the women they bring in. It is just a matter of how we respond to their encouragement to make ourselves better."
Mandrell's best scoring performance, arguably, came on the biggest stage of them all, the Final Four. She notched 30 points (12-17) and added 12 boards against Whitman College on March 21, 2014. Mandrell's 30 points put her in a tie for 13th on Whitewater's all-time scoring performances in a single game.
"Basketball helped get me where I am today because the game taught me how to work hard at everything I put my mind to," Mandrell said. "My team taught me how to work together with whatever team of people I am with. My coaches taught me how to grow as a person and to listen and learn from those around me. I love my Warhawk team and miss them and all the moments I had with them."
The women helped lead the team to only the seventh perfect (16-0) WIAC conference record and a 27-5 record overall. It was the program's and its seventh consecutive at-large berth into the NCAA Division III Women's Basketball Tournament.
The 'Hawks finished the NCAA tournament by winning the third place game after dismantling Tufts University 72-54 in what would be the women's last collegiate basketball game.