Before their matches last weekend, UW-Whitewater men's tennis alumni Kevin Friend sent head coach Frank Barnes an email regretting one thing: not beating DePauw during his senior year.
"He wanted to tell all the guys, 'this was the match I wanted back'," Barnes said. "We didn't show any focus or energy last year and we almost weren't prepared for the battle."
The 'Hawks, ranked No. 25 in the latest Intercollegiate Tennis Association Division-III poll, took Friend's message to heart as the 'Hawks (4-3) won a pair of dual meets over Carroll University and DePauw University, extending its winning streak to four.
On Feb. 14, the 'Hawks knocked off Carroll University for the seventh consecutive season, cruising past the Pioneers, 9-1, at Premier Tennis and Fitness in Janesville, Wisconsin
Junior Michael Treis and senior Ben Shklyar jumped out to a 7-2 lead in their match at No. 1 doubles and held off a Pioneer rally to win 8-6. Senior Cam Laktash and freshman Zane Navratil (No. 2), and sophomore Scott Butler and freshman Martin Beck (No. 3) cruised in their respective matches, 8-2.
"We knew it was going to be a tough match and it was a good test for how I was feeling," Shklyar said, who has already dealt with three separate injuries this season. "It was definitely a good confidence booster."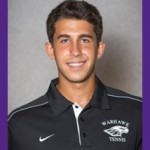 Junior Jake Humphreys (No. 1 singles) sat out due to injury against Carroll and forced Barnes to move each of his singles players up a spot in the lineup.
Treis, who normally plays at the No. 2 position, was tasked with taking on one of D-III's top singles players, Jack Michael, who was ranked No. 7 in the Central Region entering the season. The ranking didn't faze Treis, as he dominated Michael, 6-2, 6-1.
"Jack Michael is one of the best players in the Midwest," Barnes said. "[Michael] got some solid experience playing behind Jake, so it was good that he got that win considering the position he was put in."
In other singles play, Shklyar (No. 4), Laktash (No.5) and freshman Matt Zurowski (No. 6) all collected shutout wins against their counterparts. Navratil posted a 6-4, 6-2 triumph over Peter Jaeger, while sophomore Rithwik Rajshekhar Raman tallied a 6-2, 6-0 victory.
The 'Hawks suffered a 7-2 defeat by No. 24-ranked DePauw Tigers last season, but jumped out to an early 2-1 lead on Sunday, in Greencastle, Indiana, after doubles victories by Shklyar and Treis at No. 1, and Humphreys and Laktash at No. 2.
Shklyar, Treis and Laktash finished the weekend with 4-0 records.
"We came out with a lot more intensity," Shklyar said. "We had a different demeanor on the court, more energy and we wanted to give them a taste of their own medicine. It definitely shows we can do some damage."
Treis' 6-3, 6-3 victory at No. 2 singles clinched a 'Hawks victory over the Tigers. Humphreys, Shklyar and Laktash added singles wins.
Navratil battled the Tigers' Patrick Farrell in the meet's longest match, but fell in a tight 7-6 (8-6), 7-6 (7-4) defeat. Navratil trailed 0-5 in the first set and 0-4 in the second, but rallied to force both sets into tiebreaks.
"We've been working so hard, while playing a bunch of nationally-ranked opponents," Barnes said. "This kind of solidifies everything we've been doing up to this point."
Ohio Wesleyan, Wheaton College and Grinnell College visit the 'Hawks next Friday beginning at 11 a.m., as they serve as host for the Warhawk Invite at Premier Tennis and Fitness in Janesville.