Feb. 18, 2015
I've never been fortunate enough to have luck on my side. I've always been surrounded by bad luck, and it's something I've learned to deal with, though, if I had my way, I'd slap bad luck in the face until it was black and blue and wanted to bother someone else. Bad luck is a part of me, but I wasn't at all ready for what happened this year.
My "friends" ditched me as roommates before the beginning of this school year, so I was forced to move in with a bunch of random kids. I was irate at my friends, but that's not even the bad luck part of my story. That didn't come until one of my roommates moved in, and ever since then, I've felt like I've been drowning in annoyance. Want to know why?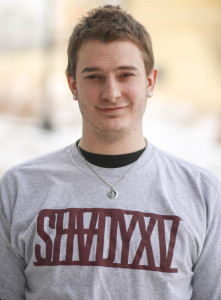 My roommate is the worst roommate imaginable.
Let me be clear before I go any further. My roommate is a nice guy. He's not mean in anyway. That's not what makes him a bad roommate. But the list of things that do fit him into that catergory is so tall, Mt. Kilimanjaro would be jealous.
I never get a moment of silence when I'm hanging at my apartment. All I hear is constant singing or leg drumming from my roommate. I'm serious. Every three seconds he's either doing one or the other, or if luck really wants to play with my emotions, both at the same time. If there was an award for being annoying, it would be named after my roommate.
Maybe he doesn't understand that my apartment's walls are thinner than my tolerance level, I don't know. But the lack of common courtesy he has is astounding. I literally need headphones plugged into my ears every time I'm at my apartment to avoid breaking things with a baseball bat. I'll be the first to admit that I get annoyed by many things, but this is absolutely ridiculous.
And his inability to be a good roommate doesn't stop there. My bathtub is also riddled with his hair, so much so that the water takes about three minutes to drain after I'm done taking a shower.  It's an absolute disaster, and he couldn't care less. He apparently doesn't mind washing himself of his filth with his own filth. Well, guess what? I mind a lot.
I live with three roommates, and he is the only one who hasn't contributed to our apartment. By that, I mean he hasn't bought any dishes or any other necessities that our apartment requires. But hey, at least he doesn't use my shampoo. At least luck hasn't screwed me over in that way.
Things are bad in my apartment. It's so bad that I spend most of my time at my girlfriend's apartment, and luckily, her roommates don't mind (probably because I'm awesome). In that way, I'm extremely lucky. If I didn't have her place to save me from insanity, my parents would have already checked me into an institute.
I have less than 90 days before I can move out, and I have never looked forward to something more. If I had to choose between winning the lottery or moving out of my apartment immediately, I would pick the latter.
Bad luck is a part of me, but nobody should have to endure the suffering I'm being forced to.