Warhawks fly on top of WIAC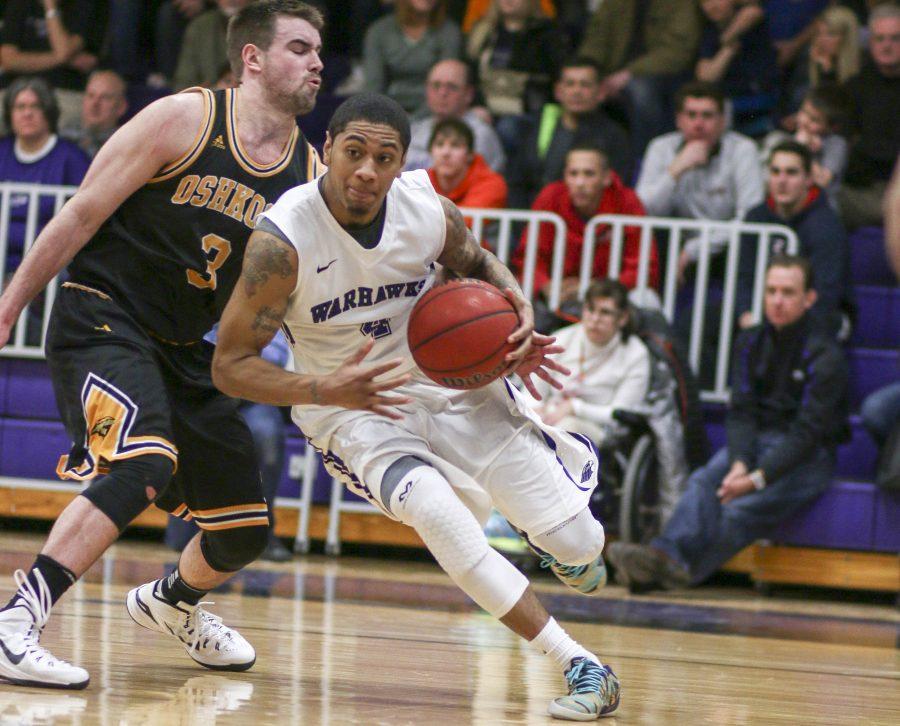 March 4, 2015 By Paul Bressler
The No. 2-ranked UW-Whitewater men's basketball team will face Defiance College (21-6) in the first round of the NCAA D-III Tournament on March 6 in Kachel Gymnasium at a time to be announced at a later date.
The victor will await the outcome of the No. 13-ranked Ohio Wesleyan (22-5) and No. 18-ranked St. Olaf (21-5) matchup. The two first-round winners will play on March 7 in Kachel Gymnasium at a time to be announced.
"I think it's going to be tough, and I think it will be a great run," senior guard Rahjan Muhammad said. "I think we will get there eventually. As a team we still have a lot to work on throughout these next few weeks. We're going to take one game at a time. That's just how March is. We can't take anybody lightly."
The Warhawks' bracket also includes No. 8-ranked Augustana (23-4), No. 9-ranked Marietta (25-3), No. 17-ranked Washington U. (20-5), and No. 20-ranked Wooster (22-7).
The 'Hawks (24-3) earned the league's automatic bid en route to the team's fourth consecutive NCAA D-III Tournament appearance.
"It's a great accomplishment," head coach Pat Miller said. "I think I'm still a little old school in my mindset that the regular season championship is a bigger accomplishment but the way things have moved in college basketball the conference tournament championship is what everybody watches and gains the attention. It's a good week for us. Certainly this team has higher aspirations then this. Happy to win it, but now it's back to work and getting focused for the NCAA Tournament."
The team captured its fourth WIAC Tournament crown in program history following a 71-57 victory over the UW-Oshkosh Titans.
Senior guard Quardell Young looked to score early and often. The preseason honorable mention connected on his first five shots including back-to-back makes from downtown. The 'Hawks held an 18-9 advantage at the 12:05 mark behind Young's 15 points.
Down 11, the Titans (16-12) began to settle in and started to play a much more physical brand of defense. The team narrowed the gap to three following a technical foul by senior guard Cody Odegaard.
The 'Hawks fought through a chippy first half and ended the period on a 16-2 run behind nine quick points from junior forward Ron Patten. The team took a comfortable 40-23 lead into the break.
"We told [our players] it was going to be physical," Miller said. "There was going to be a lot of pushing and shoving, and they were going to have to play through contact and hang in there. I think that they were prepared for it, and they handled it well. That's one of the ways Oshkosh can negate our athleticism and quickness is to play more physical, and that's what they wanted to do."
At the 15:58 mark, the 'Hawks held its biggest lead of the day 52-27 following a jumper by Odegaard. The Titans never drew closer than 15 points in the second half.
Miller received a technical foul, the team's third of the day, with three and a half minutes left in the game.
"From a coaching perspective, I'm not going to continue to allow our players to be put in dangerous situations," Miller said.
The Titans upset No. 4-ranked UW-Stevens Point 50-47 in the semifinals of the WIAC Tournament on the road.
"We wanted Stevens Point more," Muhammad said. "We felt like it would have been a better game especially an advantage at our house and the conference championship. It was just the way it rolled for them. It's March and you have to play every team the right way and play every team tough."
"When there are non-basketball plays, pushing on rebounds, I have to bring that to the attention of the officials especially that late in the game where the game is out of hand," Miller said. "The last thing I can do is allow a player to get hurt. An unfortunate situation obviously, but that's the way it goes."
Patten led all scorers with 19 including four triples in the            contest. He also added four rebounds and two blocks in just 20 minutes off the bench. Young finished with 17 points and five assists. Senior forward KJ Evans recorded his eighth double-double of the season with 15 points and a game-high 12 rebounds.
The Titans upset No. 4-ranked UW-Stevens Point 50-47 in the semifinals of the WIAC Tournament on the road.
"We wanted Stevens Point more," Muhammad said. "We felt like it would have been a better game especially an advantage at our house and the conference championship. It was just the way it rolled for them. It's March, and you have to play every team the right way and play every team tough."