Two named Scholar-Athletes
March 4, 2015 By Kali Schmieding
The UW-Whitewater men's and women's track teams did more than just compete at the WIAC Indoor Track and Field Championships on Feb. 27 and 28 at UW-Platteville. Senior captains Shelby Mahr and Jared Denu were both named Scholar-Athletes.
Mahr was selected as the Judy Kruckman WIAC Scholar-Athlete. She is a five-time All-American as well as a four-time All-WIAC honoree.
"This award is an honor and is by far the hardest earned award I've received," Mahr said. "It's a culmination of my hard work academically and athletically."
Denu was selected as the Max Sparger WIAC Scholar-Athlete. He is a four-time All-American and has nationally qualified for six events during his career.
Men tally 106.5 points and take third place
The 'Hawks totaled 106.5 points, finishing behind UW-La Crosse and UW-Eau Claire.
On Feb. 27, freshman Robert Starnes took second in the high jump with a personal best mark of 6-09.50. He also took third place in the long jump.
Senior captain Mike Judd took first place in the 60-meter hurdles with a time of 8.23 seconds.
Senior captain Dawson Miller took sixth place in the one-mile run with a time of 4:13.86. On Saturday, Miller also ran the 3,000-meter run with a time of 8:24.96.
"I was projected and expecting to be top three in both events," Miller said. "I was second in the 3k and sixth in the mile. Obviously I was a little disappointed, but now I just have to focus on nationals."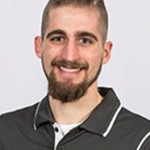 Denu finished third in the 400-meter dash on Friday with a time of 49.39.
Senior Stephen Sousa set a school record in the heptathlon with a score of 4989, which earned him third place in the meet over the weekend.
Junior Pat Chatman and freshman Parker Witt placed in the 60-meter dash. Chatman took fifth with a time of 7.01 and Witt took sixth after finishing in 7.02, a personal-best time.
Freshman Mike Courina placed third in the triple jump with a leap of 48-03.50. Junior Eric Baber also placed sixth with a
personal record of 46-04.00.
Brom takes second in 800-meter run
The 'Hawks totaled 51 points, taking sixth place in the WIAC Championship. UW-La Crosse took first place, winning its third straight championship.
Three season-best marks were achieved by the 'Hawks at the meet.
Senior captain Amanda Brom placed second in the 800-meter run with a season-best time of 2:15.14. Brom also finished sixth in the one-mile run with a time of 5:11.24.
Sophomore Brooke Linse finish fourth in the pentathlon with a personal-best score of 3179.
Mahr finished fourth in the weight throw with a toss of 57-03.75.
"My performance this weekend was not what I had envisioned, but it keeps me that much more motivated to work harder at practice," Mahr said.
Junior Tyler Henderson placed fifth in the triple jump with a season-best 37-01.25. Also placing in the triple jump were sophomore Aisha Coleman and Kaylee Raucci. Coleman took sixth with a leap of 36-04.00 and Raucci took seventh with a leap of 35-10.75 which is her personal-best
Freshman Erica Sternard took third in the high jump with a mark of 5-04.25.
The 'Hawks will participate in two Last Chance meets to qualify for the NCAA Division III Championships on March 6 and 7.
"They [Last Chance meets] are very important because this weekend is everyone's last chance to qualify for the national meet," Mahr said. "It's a chance for others who are qualified to better their times and marks."
The 'Hawks first meet will be at 4 p.m. on March 6 at UW-Platteville. The second meet will be at 10:30 a.m. on March 7 at UW-Stevens Point.