Students display photography to inspire travel
March 11, 2015
Brenna Larson
Senior Megan Stevens, one of the featured photographers in the International Photo Contest,
studied abroad in Burkina Faso, Africa. One of her photos in Roberta's Art Gallery is of three little African girls holding swords made of sticks.
"The girls were very shy," Stevens said "There were two girls that were a little bit more outgoing and they were pulling along the third girl, to go see these American girls sitting down."
Students who studied abroad had a chance to display their photographs which captures the essence of their overseas journey and experience of a different culture.
The International Photo Contest encourages students to study abroad and experience new people and cultures.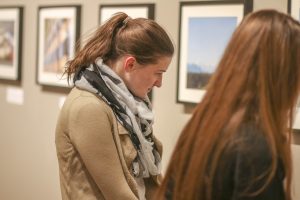 Roberta's Art Gallery hosted the second annual International Photo Contest on March 4.  While 47 photos submitted all together from international and study abroad students, only 27 photographs were selected to be displayed in the gallery. Some students had two pieces selected.
The event took a total of two months to put together. There were fewer photos submitted last year than this year. This year's theme is Cultural Clues and Inner Changes. Students had to submit a photo along with a short text that summarized their intercultural experience.
The International Photo Contest is one of the main events during International Education week, which is dedicated to help promote study abroad opportunities.
Silvia Reyes is an employee at Roberta's Art Gallery who worked the event.
"This semester, the exhibit has been extremely popular. The gallery would get 50 to 60 visitors per day," Reyes said.
With students in and out of the gallery viewing their peer's artwork, it may inspire them to seek out a travel study program, which is one of the main goals of International Education Week.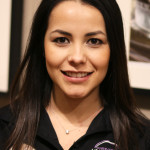 "The overall goal of having the photo exhibit is to inspire other students to get international experiences," said Dan Colleran, the global experience coordinator. "And to inspire our international students to seek out American experiences."
Candace Chenoweth, director of the Center for Global Education, said the International Education Week is very important.
"We know that students learn really well from their peers and I think students come into the gallery and see pictures their peers have taken and they can very easily imagine themselves being in that same environment," Chenoweth said. "Studying abroad also teaches you how to travel so every time I travel I think of a perspective that tends to go deeper because I had the experience of studying abroad."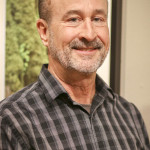 The photo exhibit will be on display through March 18. Roberta's Art Gallery is open Mondays through Thursdays from 10 a.m. to 6 p.m., Fridays 10 a.m. to 3 p.m. and is closed Saturdays and Sundays. For additional information about study abroad opportunities and global experiences, visit the Center for Global Education's page at http://www.uww.edu/international.