The old farmer's tale of April bringing showers for May flowers may have us looking for indoor activities to occupy our time this month. The Young Auditorium has six events to fill that need.
April starts off with the crazy, yet entertaining, Church Basement Ladies. These women have performed at UW-Whitewater before, whether it's the exact same group or not, I'm not sure, but they will return with the fifth and last installment of the series titled "The Last (Potluck) Supper." The play is set in 1979, and the members of the church gather to share their favorite meals, desserts and stories from the last 100 years. While the conversations begin, flashback scenes take the stage. Church humor can be difficult to grasp if you're non-religious, but these ladies pull it off well. Catch the ladies at 2 or 7 p.m. on April 11.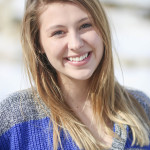 Carrying on with the religious theme, AVERYday Ministries of Delavan, Wisconsin will present a concert by Christian singer Jamie Grace. Grace is a 22-year-old singer-songwriter from Atlanta, Georgia and was the youngest 2012 Grammy nominee. This concert has a higher purpose: to build the Avery House in Haiti, in remembrance of Avery McCarthy who passed away at age 11, and whose wish it was to help young girls in Haiti. The Avery House will be a transitional home for young women who are aging out of the orphanage system. The concert will be held at 7 p.m. on April 18.
At 3 p.m. on April 19, Cultural Affairs will present the Wisconsin Chamber Choir with Full Orchestra. This Madison-based group has quite the reputation for soul-stirring performances. UW-Whitewater's own Robert Gehrenbeck leads the 40-member choir joined by the UW-W Chamber choir accompanied by the Madison Symphony Orchestra, the Wisconsin Chamber Orchestra and the Milwaukee Ballet Orchestra. It sounds like a full house already meaning the sound quality of the concert should be brilliant. I don't think it will matter where you sit in the house, a grand time will be offered, just prepare to have your "soul-stirred."
Switching gears from Christian performances and soulful music, there is "Vang: A Drama About Recent Immigrant Farmers." The word Vang means "garden" or "farm" in Hmong. This program documents recent Iowa immigrant farmers and their journeys to the U.S. Hmong, Mexican, Sudanese and Dutch immigrants all speak of their struggles and desire to farm. Vang is set in verbatim-style, meaning it is like documentary where precise words are spoken by people interviewed about a particular topic, in this case immigrant farming. If you are the type for non-fiction, this is the right play for you. Learn all about these farmer's experiences at 7:30 p.m. on
April 21.
Then we take it down a couple notches from serious drama to jovially child-friendly with "Earthy Songs" by Ken Lonnquist. This post-Earth Day performance is part of the Never Too Young Series to celebrate our planet. The songs themselves include topics of water, woods and wildlife conservation, all matched to upbeat rhythms and created with humorous lyrics to help kids connect the idea of having a good time to being good to our planet. Join the fun at 3 p.m. on April 26.
Last for the month of April will be Pilobolus. Now I've never heard of this before and maybe you haven't either, but from what I understand, pilobolus performances focus on contortions of the human form, meaning these performers are strong and flexible: prime athletes. It is an exaggerated, physical form of dance, just not one you typically see or recognize. If you're fascinated like I am, you can appease your intrigue by attending the show at 7:30 p.m. on April 29.
The Young Audtiorium has quite the line-up this month that range from spiritual to physical and a couple things in between. The only downfall is most of these events require a bit of money and after spring break my pockets are empty. Good thing there's such a thing as student discounts.
To find out more about specific shows or ticket prices visit: www.uww.edu/youngauditorium.