Join the baseball team bandwagon
April 8, 2015 By Josh Sinclair
The UW-W baseball team won 87 percent of its games last year, including their last 11 on the way to their its National Championship. That is really, really good.
This year's team returns seven starters including All-American Mikole Pierce. They were the preseason No.1 team. The expectations don't get any higher than this.
This year's team is not too shabby themselves. Whether it is offense, where they average 8.6 runs per game, or pitching, where they give up under four runs per game. It is only 15 games into the season and they have outscored the opposition 111-47.
The 'Hawks are currently ranked No. 3 by the National Collegiate Baseball Writers Association. Being the favorites isn't a surprise for the 'Hawks, they have a bulls-eye on their back and everyone is coming for them.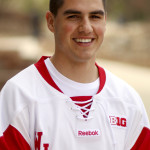 Salisbury University seems to be the biggest obstacle come playoff time. Salisbury is 16-0 with two preseason All-Americans and is ranked No. 1 in the country by d3baseball.
Can the young 'Hawks, who have 22 underclassmen, overcome the experience of the 13 seniors that Salisbury touts?
Now let's take a look at the personnel.
Mikole Pierce is a preseason All-American and was the Midwest Region Player of the Year last year. Casey Power and Mike Mierow were All-Region players last year that figure to pick it up this year and prove themselves as main contributors.
Senior southpaw Colin Grove heads up a young pitching staff that has their ups and downs. They've given up as many as 11 runs, but they have been dominant and tossed shutouts this year.
But when a team's collective batting average is a hair shy of .350, has 40 extra base hits and have the potential to put up 22 runs in a game, the pitching doesn't have to be flawless.
Does the young talent on the Warhawks have to step up to fill some big roles? Absolutely.
Freshmen like Daytona Bryden, Will Helbing, Kyle Jones, Dane Burman, Lake Bachar and Heath Benz are playing big roles already, they hopefully will be ready come playoff time.
Salisbury University starts eight upperclassman in the field and all nine players have had playoff experience. Four of their everyday starters bat over .400 and as a team they hit .370 and have knocked in 174 runs.
UW-W is the favorite to win the title again this season and with good reason, there is no reason to believe the expectations for this team can't be met. Salisbury seems to be the primary villain in the quest for a third National Championship.
If you asked me what I think will happen? I'd say get on the bandwagon now, it's going on a long ride.