By Jordan Gittens
April 22, 2015
This past Sunday, Whitewater turned out its best fashion in the Hamilton Room of the University Center. Here, we saw fashion from Thirty-One, an individual sales consultant company, to Dale's Bootery, which is just a stone throw away on Main Street.
The Second Annual Fashion Show, put on by the Whitewater Chamber of Commerce, showcased and celebrated some of the best fashion that can be seen in the Whitewater area. From formal to active wear, audience members saw a variety of fashion and what to expect to see in the area in the months to come.
The fashion show highlighted the best of what local vendors, like Maurices, had to offer.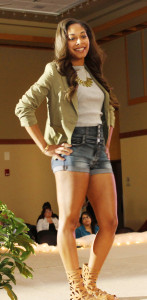 In the formal and night-out category, lace dresses in mint were showcased, while high-waist shorts with military jackets and short sleeved sweaters were all the rage.
In shoes, wedges were the big thing. These came in all colors, blues, whites, blacks and tans. Showing that they can go with whatever you can imagine.
Two-toned dresses made their way back onto the runway, and matching tans with turquoises was one of the great successes. One of the show stoppers was a bejeweled dressed from Vermillion Emporium, featuring a waist-high slit and gems from shoulder to toe in purple, silver and black.
Casual wear showed us patterned jumpers and lace shorts with tribal print tank tops, while active wear brought us matching sweatshirts and yoga pants and brightly colored sports bras.
Independent sales consultants were a huge part of the attraction. Products such as candle warmers and scented waxes from Scentsy were available and so were nail wraps from Jamberry Nails, totes and handbags from Thirty-One, jewelry from Adornable.u Accessories, and a plethora of other vendors were there to showcase what is to be expected in the future.
In the world of handbags, we saw vibrant colors with no patterns, and with totes, an ever-changing pattern that is sure to match whatever occasion you need.
Jamberry Nails debuted some of their new wraps for the summer which included Amore, Arcade, Bling-Bling and Blushing Floral.
Stores such as Dale's Bootery came around and brought with them a wide selection of shoes. From Birkenstocks, to Clarks and Sperry's. They offered a wide selection of product that is perfect for any one persons need.
Vermillion Emporium, a resale store located in Fort Atkinson, brought with them a collection of Marc Jacobs bags, lace dresses, chiffon tops and patterned skirts, all spring and summer essentials.
The event drew in approximately 75-100 people and in its second year showed great potential for the years to come.
Get the word out that Whitewater is showing the potential to become a great fashion college, and we can show them how to wear any and everything and be revolutionary.