Student creates a buzz on campus with new motor-powered wheel
April 29, 2015
By Vesna Brajkovic
Heads turn, footsteps stop dead in their tracks and phones go up to catch a blurry picture as proof of the student seamlessly slicing through the crowded college walkway standing over a single motor-powered wheel.
The mode of transportation, which looks like something straight out of a science fiction movie, is the first seen at UW-Whitewater and, consequently, has garnered a lot of attention. Attention that junior Nathan Learned doesn't mind.
Known as a MonoRover, this one-wheeled electric scooter – up in ranks with the hover board from Back to the Future – is poised to take UW-Whitewater by storm for the few who have caught a glimpse of it.
Learned, the UW-W student who powers the wheel to and from class and work, jumped at the opportunity to research and purchase one soon after seeing a video of it in action on Facebook. Learned is now able to move around seemingly effortlessly, but it took some time to get the hang of this almost futuristic device.
After taking the leap to purchase this almost $600 wheel, he tried it out first on a slow day at the Commercial Bank located in Sentry, with his coworkers looking on.
"The day it came in the mail he had his friend bring it to the bank so he could try it out," senior coworker Haley Fischer said. "I thought it looked really strange, but it was something Nathan would definitely buy."
After work, he took it outside and practiced propelling forward and in reverse with his hand trailing on the nearby wall until he got the hang of it. It took roughly an hour to master it, but bumps, 90-degree turns and the hilly terrain of campus prove to still be a bit of a challenge.
But Learned said accidents or falls aren't as common as people seem to think because you can easily step off the device.
One of the biggest accidents he experienced was one when he was taking on the hill by the Williams Center. The MonoRover has a gyroscope that helps measure and maintain orientation. When going downhill, the gyro will automatically try to correct itself. First getting the hang of device, Learned initially leaned forward going down the hill causing the device to also push forward.
"I was going probably 12 to 15 miles per hour, no joke," he said. "I knew I was going down. Luckily, I got to the grass area…did some rolls. But what I was most worried about was [the MonoRover]. It started stumbling and bouncing for 15 to 20 feet."
The 22.9 pound one-wheel scooter, with a maximum speed of about 11 mph, made it out of the accident in one piece, as it's durable.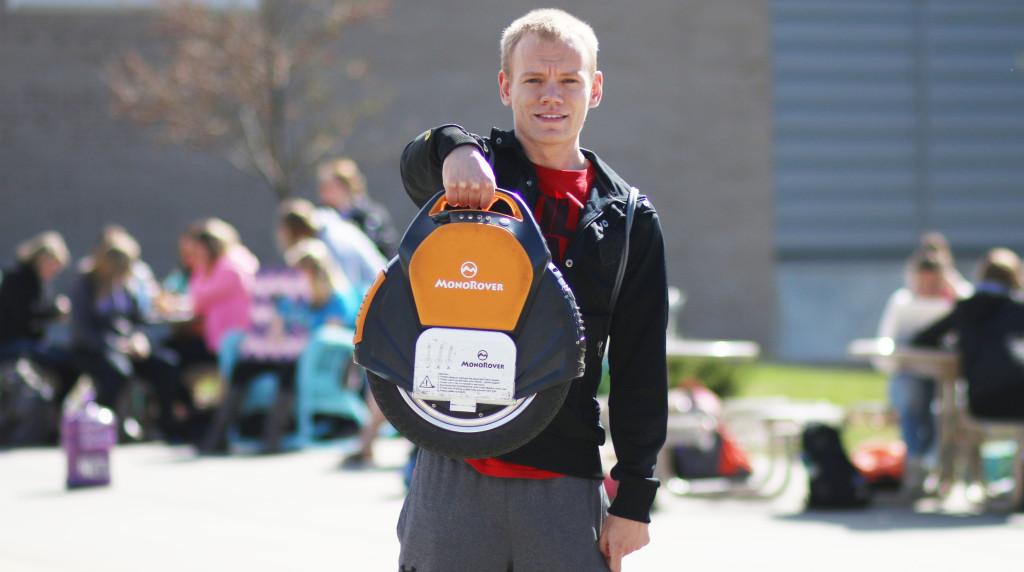 Learned said he was surprised how quickly he caught on. The MonoRover takes balance to get started, similar to seeing an unicyclist start up, but later Learned said balance isn't as much a factor in maneuvering it as mastering the control is by pointing your toes and leaning your body a certain way.
The MonoRover has cut his commute time to campus in half to five minutes.
"When I first heard about him using it, my first reaction was it was a waste of money and ridiculous," freshman coworker Danny Pratt said. "It's not that practical."
Seeking out a MonoRover may seem like an impulse buy to some. And impulsiveness is not something to which Learned is a stranger.
At 8 years old, Learned got hit by a state trooper while riding his bike in his hometown of Stoughton, Wisconsin. He only received minor injures, faulting mostly himself for the accident, but said as soon as the officer checked up on him and took him on tour of his patrol car, he knew right away that he wanted to be in law enforcement.
Learned also enlisted in the National Guard, as a 92 Foxtrot or Petroleum Supply Specialist, on a whim during his sophomore year of college. It was another life-decision that didn't take long to make after a ROTC member and floor-mate in his residence hall convinced him to speak to a recruiter.
"It's been an amazing experience," he said of his enlisting and training. "I've definitely never looked back … If I could do it all again I would – the whole six months of [job] training."
Learned said that although he acts quickly when he knows what he wants, he's weighs his options thoroughly.
"I think rationally, but I think rapidly," Learned said.
Learned doesn't seem to regret any of these important decisions; in fact he considers graduating basic training to be the proudest moment of his life.
"That feeling and that moment of knowing what I've accomplished, and what I'm going to accomplish in the future was for sure one of my proudest moments," Learned said.
A communication major with a public relations emphasis and criminology minor, Learned's ultimate goal is to end up in law enforcement.
But for now Learned has caused quite a buzz around campus with his choice of transportation. Students are rightfully curious about his effortless glide past them, and Learned often gives a wave for those passing people scrambling to take a short video.