Student org scores big in National Expo
April 29, 2015
By Rumasa Noor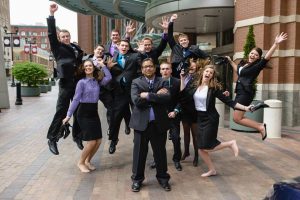 "Coming together is a beginning. Keeping together is progress. Working together is success," according to Henry Ford. UW-Whitewater's chapter of Enactus has proved this statement to be true. Merely three years old, the organization has been climbing the stairs of success since its inception.
After qualifying for the quarter finals of the Enactus United States National Exposition for two years in a row, the organization's UW-W chapter was placed second in the quarter finals this year.
Students Ella Pelot, Austin Kadulski, Mitchell Fiene and Molly Stram  represented the social entrepreneurship organization at the expo.
Stram said they gave a 15-minute presentation in which they unveiled four of the projects they have been involved with.
"We talked about our internal operations," Stram said. "The group started off with maybe four or five people and the next year they doubled and this year it's doubled too, so this year we kind of had to resructure the organization."
Fiene discussed his agricultural project, Scouting Forward which had everyone's attention, Stram said. He presented the same project last year but at that time he only had projections for its success. This year he had numbers to prove his predictions, Stram said.
Kadulski discussed Enactus' involvement with The World Resource Foundation to help Honduran entrepreneurs fundraise for their hydroponic farming, Stram said.
The student organization also helped a local business, Dale's Bootery by providing marketing and social media related services to promote the business, Stram said. This project was presented by Pelot.
At CoBE Talks, the advisor of Enactus, Professor Choton Basu said it's unheard of for a new chapter of the organization to make it this far in the National expo.