Experienced youth look to lead tennis squad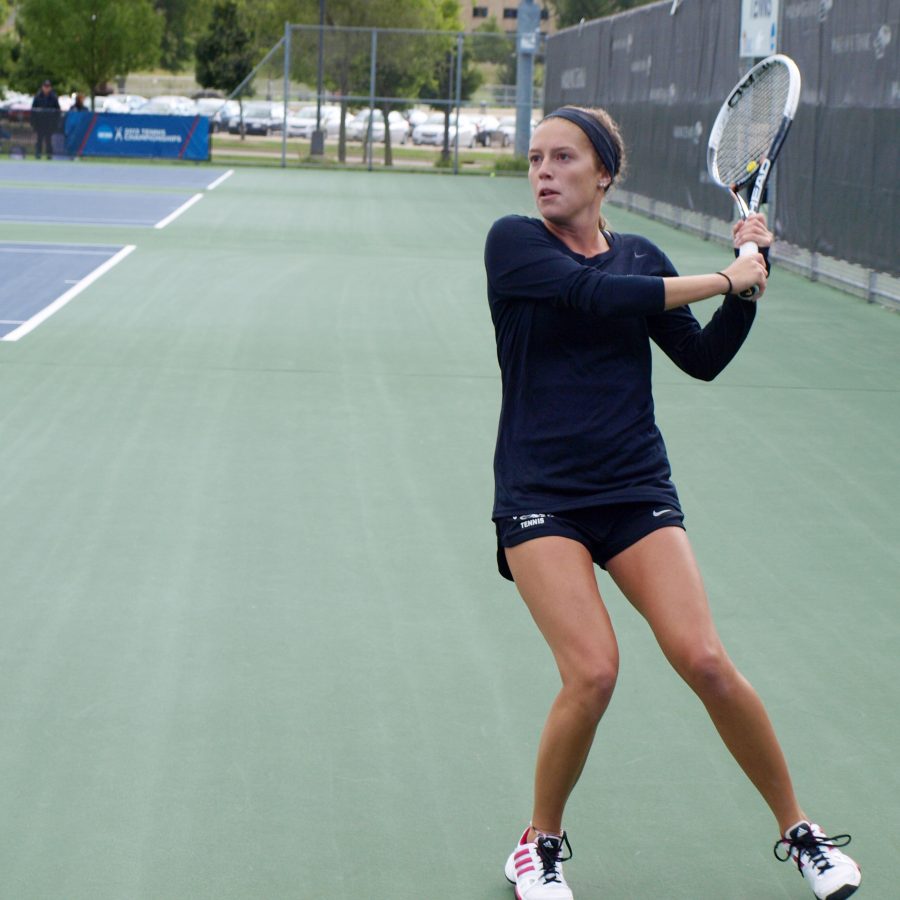 September 3, 2015 By Connor Moore
 The UW-Whitewater women's tennis team, coming off a year which saw them go 24-5, will look to capitalize off a season which came to a collective end in the Round of 16 in the NCAA Championship.
This year will see a Warhawk tennis team much younger than last year's unit, however, with a look on paper that lacks the oft-talked about "senior leadership."
"Most of our starters this year will be non-seniors," head coach Frank Barnes.
The Warhawks 2015 team will have a total of eight underclassmen to go along with two juniors and one senior.
Alicia Beck, who finished last season as an Intercollegiate Tennis Association All-American, USTA/ITA Midwest Regional champion and WIAC champion (all in doubles competition), leads a group of accomplished returning sophomores. 
Kassie Alexander (4-1 singles record), Brittany Goebel (7-1 singles record), Bridgid McGuire (Intercollegiate Tennis Association All-American in doubles) and Alexandra Talyansky (WIAC champion at No.3 singles, 28-6 record tied for team lead in singles competition) are among the group of sophomores this year for Barnes.
Gabi Kitchell is the only freshman on the team.
Junior Megan Humphreys, who finished last year as a runner-up in Division III singles at the USTA/ITA National Small College Championships, spoke of the team's youth.
"It makes a big difference," she said. "It's definitely a positive having mostly returners and only one new person."
Humphreys added on, saying having so many players returning works to the team's advantage.
Despite having a roster dominated by mainly sophomores, Barnes spoke high praise for the lone senior on the team.
"We do have one senior captain who's going to be great in the leadership role," Barnes said, talking about Ashley Miller. "She's was a key reserve last year at the NCAA tournament and helped with the team experience."
Humphreys also had high praise for Miller and the experience she brings to the team.
"She's the rock of our team," Humphreys said. "She's a great captain. She really wants us to do our best and looks out for us."
"She knows the ropes, having been here for three years already. Everyone on the team really appreciates her."
Humphreys later said she also plans to use her experiences the past few years to help guide the team this upcoming season.
"I want them to know that they could come to me with anything," Humphreys said. "On and off the court."
To the outside person looking on the Warhawks' roster on paper, they would immediately look at the fact that there is only one senior. That shouldn't be read into too much given the team's success last season.
"We reached the Round of 16 last year as a team," Humphreys said. "and that really brought our confidence up knowing we can compete with the top teams in the nation."
"Knowing that a lot of teams are losing seniors, the same teams that we battled with pretty close last year, is definitely an advantage to us," Humphreys said. "Everyone is working hard and very confident. Everyone is back and we know the ropes a lot more, so that will play to our advantage as well."