Global Experience Fair offers students ways to travel, play, study
By Emily Lepkowski
Sept. 22, 2015
The idea of traveling off home soil can be daunting for students who don't travel often or have never been out of the country.
Dan Colleran, experience coordinator for the Center of Global Education (CGE), said the idea  of traveling while in school should be something to keep in mind because of the benefits that  come out of it.
"Every student should consider it," Colleran said. "It's good for resumes, academics and is surprisingly affordable."
The Global Experiences Fair was held on Sept. 15. on Wyman Mall between the University  Center and Hyland Hall.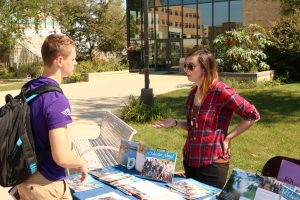 With 55 exhibitors and 60 different tables, students gathered on the sidewalks to explore more about the CGE.
CGE offers programs in more than 50 countries as well as various types of study programs such as exchange programs or faculty-led programs.
Most study programs are compatible with a wide range of majors and interests and have a study focus such as art or communication that benefit students' career paths as well as builds upon and enriches their learning experiences.
Brian Lucas, director of radio at 91.7 The Edge, was one of the many faculty members promoting a travel-study trip to Ireland for the Spring 2016 semester.
"You can learn a lot about yourself as an individual," Lucas said.
Besides travel programs, CGE assists students with information about financing their study abroad, as well as arranging their travel so students are still on track to graduate with enough credits. 
The next Global Experiences Fair will be Jan. 29, 2016  in the University Center Hamilton Room.
CGE is located in Hyland Hall room 1227 and is open Monday through Friday 7:45 a.m. to 4:30 p.m. for students to explore more options.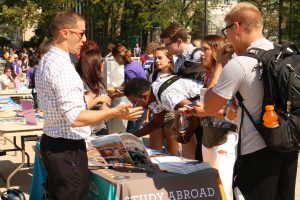 Upcoming opportunities
One new program showcased at the fair was "LGBT Views of Europe" that will take place during the Spring 2016 semester. This is a three-week faculty-led program that will explore LGBT communities and their acceptance in Western Europe through exploring areas such as art and civil rights movements. Students who attend the program will have a chance to visit cities like London and Barcelona.
Another new travel study destination available for students during the Spring 2016 semester will be an Ireland study, led by assistant professor Kate Ksobiech and Lucas. Students participating in this travel study will visit a few different cities including Dublin while learning about intercultural communication in Irish culture.