'Hawks look for challengers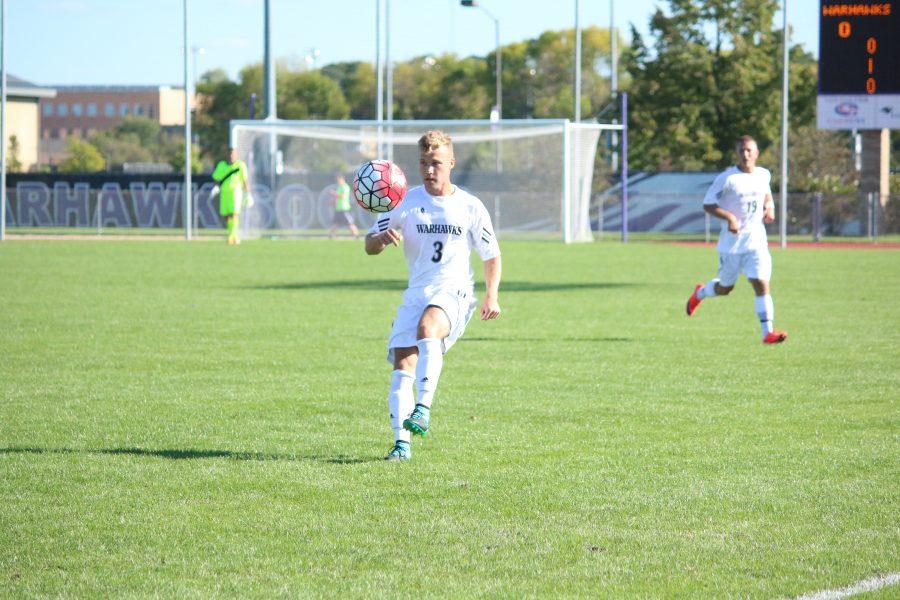 September 23, 2015 By Emily Leclair
After battling through rain and lightning to beat Carthage College 3-2 and shutting out Wittenberg University (Ohio) 7-0, the UW-Whitewater men's soccer team improves its undefeated season to 7-0 at Battle of the Borders on Sept. 18 and 19.
The 'Hawks are ranked 14th by the National Soccer Coaches Association and 17th by D3soccer.com.
"It's wonderful to be ranked because you get appreciated and all your hard work kind of pays off on a national stage," head coach Tony Guinn said. "The negative part of that is when you get ranked, then everybody knows about it, everybody reads about it and now you have to play those people."
Three different players scored in the 3-2 win over Carthage after a 45-minute lightning delay and constant rain.
"We were actually prepared for it because we went through the same experience when we played St. Olaf, so it actually turned out to be a good thing," Guinn said. "We've been through that situation before and that helped us prepare for this."
Carthage fired four shots in the first 13 minutes with the fourth shot finding the net to put the Redmen up 1-0.
Junior Justin Stanko followed four minutes later with a 27-yard shot to tie the game.
The score remained tied going into halftime, but sophomore Dylan Hottsmith scored 27 seconds into the second half off an assist from senior Sam Novak to give UW-W the lead, 2-1.
Carthage retaliated with a goal to tie it, but the 'Hawks took the lead for good in the 62nd minute when junior Jordan Kayser made a go-ahead goal off an assist from Hottsmith.
"I think we felt a little edge because we haven't beaten Carthage the past three years, so I feel like we were ready to win this week," Kayser said.
Senior goalkeeper Alex Buchman made five saves to improve to 6-0 this season.
The match recorded 21 fouls and seven yellow cards between Carthage and Whitewater.
"When it comes to fouls, guys were very well-behaved to be     honest with you," Guinn said. "Every foul we've gotten is because of something physical, like a hard tackle."
The 'Hawks went on to score five goals in the first half against Wittenberg to win 7-0 on the second day of the tournament.
The last time UW-W scored seven or more goals was Oct. 11, 2011 against Finlandia University.
UW-W outshot the Tigers 14-5, with Hottsmith and freshman Alex Whiteman scoring two goals apiece.
Sophomore Adrian Castillo and freshmen Deklan Corbet and Callan Lucjak each added a goal.
"Best recruiting class I've ever had at Whitewater," Guinn said of the underclassmen.
Buchman and sophomore Chris Lucatorto combined for the shutout in the goal.
"The longest stretch we've gone is 8-0, and I think we feel like we can have an undefeated season, if not only go on to lose one or two this year," Kayser said.
Guinn wants the team to focus on one game at a time.
"Don't get too caught up in reading what rank you are, every team you play, respect them, and take one game at a time," Guinn said. "That should be the focus."