Tearing Down Walls: Students learn about the lives of peers through interactive workshop
By Andrew Marvitz
October 14, 2015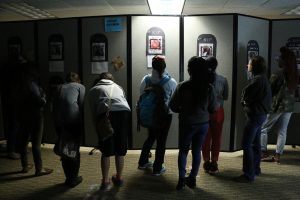 Alice Gilliam walked away from the "eye-opening" Boxes and Walls experience with a new outlook.
"It was definitely an experience, seeing what other people are going through," she said. "It was scary. It's something they live through during everyday life, and we're only going through it for 75 minutes."
Boxes and Walls described as an "interactive diversity experience," by Terry Tumbarello, associate director of University Housing and Boxes and Walls coordinator.
The Black Lives Matter room impacted Gilliam the most, identifying as African-American herself.
"I've had family that's been through the criminal system," she said. "Just to see that for a couple moments when they live that in their everyday lives is crazy."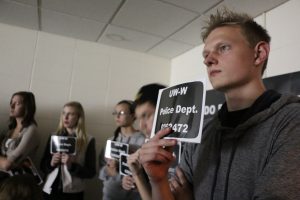 Black, Latino/Latina, Disability, LGBTQ, Gender and Socio-Economic Status experiences were featured this year.
Tumbarello said the purpose of the program is implied in the name: to invite participants to "think outside of the box by throwing away stereotypes and tearing down walls of oppression" and describes the program as an interactive walk-through tour that allows participants to experience a broad range of oppressions.
"The power of this program is realized when the participants feel the oppression that many of our students live through on a daily basis," Tumbarello said. "Each experience will allow participants to feel and/or sense what life is like from various diverse perspectives."
Students can take part in this experience in Esker Hall, from Oct. 11 through 15. On Oct. 11, the program ran from 10 a.m. to 4 p.m.; Monday through Thursday the program will run from 6 p.m. to 10 p.m nightly. Sunday, Monday and Thursday will be open to all students.
Students who arrive on Tuesday and Wednesday without reservations may be able to complete the experience; however, they cannot be assured entry, as students with New Student Seminar reservations have priority.
The popularity of the event made a case for the staff to add another day to the program, expanding the days from Monday-Thursday to include Sunday as well.
"Last year, we had 1,474 residents go through the program, yet there were many who indicated a desire but were not able to," Tumbarello said. "We feel that by going to Sunday, we will be able to accommodate the needs of students who aren't able to attend the program in the evening or during the week."