By Sidney Birkett
Nov. 11, 2015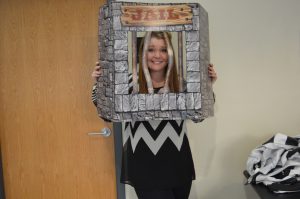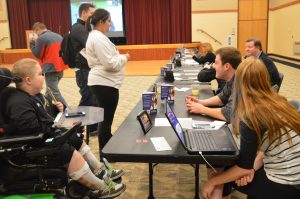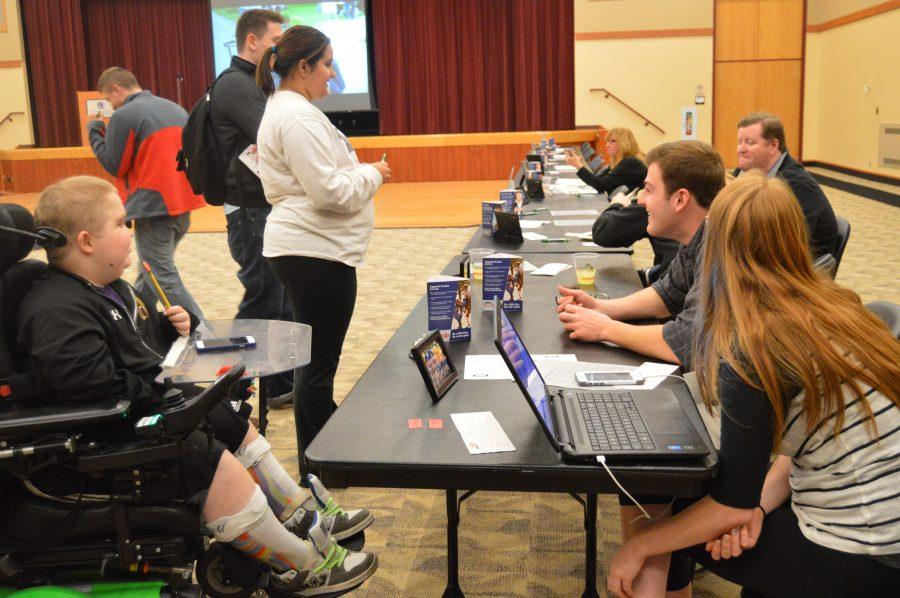 Usually releasing "jailbirds" doesn't help send children to camp, but  the money raised at a lock-up hosted by Delta Zeta and DECA on Thurs., Nov. 5 did.
The money was raised for the Muscular Dystrophy Association (MDA) by means of having "jailbirds" stay seated while trying to raise money for children with the disease to summer camp. The event, featuring 13 "jailbirds," who were all trying to make bail of $1,600, was held in the University Center Hamilton room.
Muscular Dystrophy is a critical health disease that takes away basic human functions such as running, dancing, smiling, and even breathing.
"The MDA is a non-profit organization that has basically made all the major breakthroughs is muscular diseases since they've started," said Abby Swift, fundraising coordinator for MDA. "In the lock-up we recruit different business leaders and communities and things like that to then be 'locked up' and be 'jailbirds' and go 'behind bars.'"
The jailbirds, recruited by DECA and Delta Zeta, raised money through online funding platforms, as well as through pledges, checks and cash, as stated by Swift.
The overall goal was to raise $10,000 to donate to MDA, which would fund summer camps for kids with muscular disease, along with clinics and research.
Swift said it costs about $800 to send a kid to camp, so raising this "bail" would be similar to sending two kids to camp.
As for the research this is funding, Swift said it is expected to gain more development in the next five years than it had in the last fifty. This one of the reasons Swift believes this event is so important.
Along with jailbirds raising money, the event featured a bean-bag toss, other various events, and even a guest speaker, Elliot Spear, who spoke on his own experience with the muscular disease.
Spear said his role in the event was an embassador. He said he was there to meet people and encourage them
"[I'm here] to show them how much support they give to me and my family," said Spear.
Toppers Pizza donated gift cards to student organizations that raised the most money. The Residence Hall Association (RHA) donated $800 after collectively voting on it last Wednesday.
Delta Zeta chairman of philanthropy Kendal Eberhardt joined the sorority for events like the MDA lock-up.
"I joined the sorority because I wanted to give back to others, and I just love how everyone is willing to step up and give money and give back to others," Eberhardt said. "We're all raising money to send kids to summer camp. And I love how everyone is not questioning it and just stepping up to give back."
The event wasn't just about raising money to send kids to camp, but rather to raise awareness to muscular dystrophy, as stated by Swift, Eberhardt and Delta Zeta Treasurer Kaytlyn Larson.
"What it means to me, I know a few people that are affected, so just helping out with the awareness and getting more people involved is what we try to do. We're trying to promote it and just raise money," Larson said.