Graduate goodbyes: Little moments can mean the most
Dec. 8, 2015
My time with the Royal Purple has been nothing if not interesting. By interesting, I mean it was a mixture of good, bad, intolerable and unforgettable. The people at this paper have been nothing but a constant source of entertainment, learning, annoyances and wonderful memories.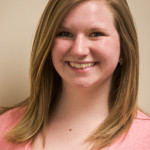 My roommate, best friend and Editor in Chief, Alexandria Zamecnik, was the sole reason I got involved with this wonderful business. She encouraged me, and I hated her. But, as time would soon prove, I fell into place at this magical, college-paper wonderland. Thanks, Al. You're a gem. I still love to hate you, but also, you're my homie.
I would love to say I won't miss it and it's my time, but really I feel I am leaving before my time. Due to some unforeseen and unfathomable events, my time with the paper is cut short. During this difficult time, I can say the RP staff has been magnificent and supportive. Thank you all.
In leaving "goodbye" advice, I will tell you all to enjoy the small things in life. The little moments and little memories will mean everything to you. Document everything because memories are fickle. Take pictures. Make notes. Keep things that make you smile. Enjoy your life. It's cliché, but fitting at this time in my life. Live like you're running out of time; some people don't get enough.
In true RP Goodbye fashion, I feel the need to make the following shout outs:
Vespa: You will do a million beautiful things with your life. Jesse McCartney wrote a song about you and your beautiful soul. Always smile and be kind, but remember life is too short to make everyone else happy. Do big things, Sweetie. Be fierce.
Ashley M.: One time you told me you thought I was really funny, but you were afraid to laugh at my jokes because you thought I was mean. To this day, that's still the best compliment I've ever received. Thank you. Never stop laughing.
Emily W.: Thank you for being the best Creative Director. You are great, and I know you'll do great things with your life. I am glad I had the change to work with you.
Kimmy: Photograph my life. Continue trying new things. Stay cool.
Josh: You're never too old to graduate. I'm proud of you, man.
Jake: You are a beautiful writer. Please never stop.
Signe: Keep being you. Enjoy all the places in the world you get to see.
Dr. Carol, PhD: Thank you for having faith in me. Thank you for having faith in all of us. Your stories and life experiences have been a constant source of entertainment and encouragement to us all.
To all current RP staff: Thanks for the laughs. To quote a noteworthy band, "Thanks for the memories, even though they weren't so great." Just kidding, kind of.
To any future RP staff: May your quote boards be full and your laughter loud.
Goodbye, Royal Purple. It's been mostly real.