Racist terms, social media cause outcry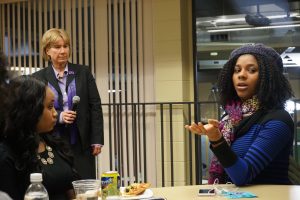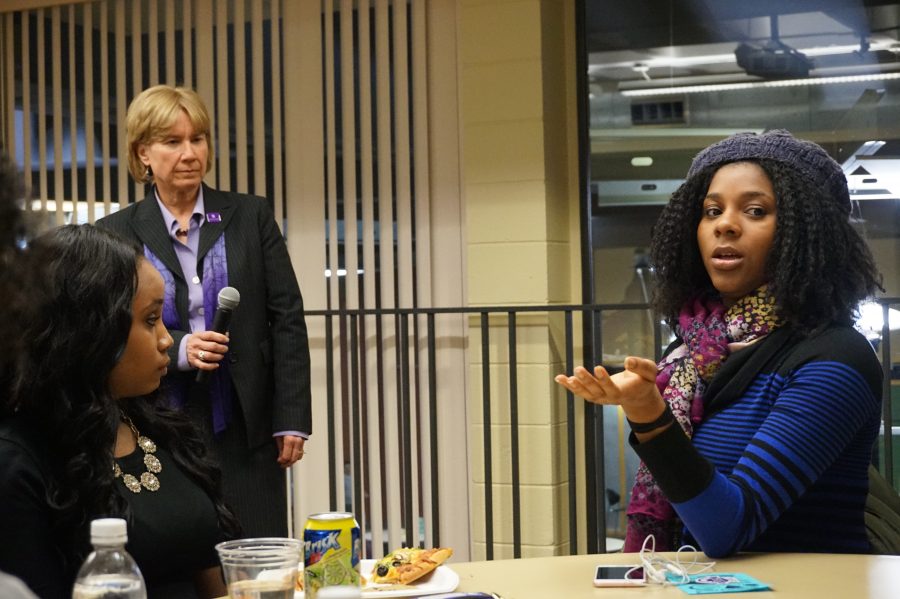 By Nathan Kober
Feb. 24, 2016
Freshman Black Student Union (BSU) member Tatyana Covington told Chancellor Beverly Kopper she has considered transferring out of UW-Whitewater due to the racist and bigoted speech heard on campus at the Pizza with the Chancellor event on Feb. 16.
"I don't feel safe at this school," she said. "I really don't … my parents told me it was a good idea to come here and at this point, I'm kind of just done."
The meeting was a back-and-forth conversation on the need for more action between students who feel discriminated against and campus officials.
Later that night, a Snapchat photo of two students wearing what is now known to be a dark exfoliating mask, was posted on Facebook and shared over 1,116 times. Comments on the post linked the photo to apparent blackface and the racial problems seeming to plague the campus.
Senior Shalia Morgan, who originally posted the Snapchat photo on Facebook, was "livid" about the photo, saying conversations about race on campus should have been "had yesterday."
"For people who don't think it's about race it's ALL ABOUT RACE because this is the bull we deal with EVERY SINGLE DAY!" Morgan said in her Facebook post. "We are faced with stuff like this EVERY SINGLE DAY, but y'all want us to be quiet??? Never!!! But the saddest part is these students may never be punished because that's just what privilege does, it protects the oppressors!"
Kopper originally released a statement calling the photo "hurtful and destructive to our campus community." Later, she told News 3 the students meant no harm,and confirmed the students will receive no punishment from the university.
Campus climate became a major focus of the event on Tuesday night, where more than 80 people showed up to discuss their feelings and concerns with Kopper.
"Some of our multicultural and nontraditional students feel the environment on campus is not welcoming to all," Kopper said at the event. "Over and over, the students in attendance expressed their need to be heard and for campus to do more than just talk."
In response to the events last week, Kopper announced the university would be holding an action forum from 6 to 8 p.m. on Feb. 23.
Addressing concerns
Students in BSU, Latinos Unidos and other organizations shared their personal stories of racism and bigotry, many saying they feel not enough is being done about it.
BSU members addressed recent events in Tutt Hall, where the word "ni***r" was written on a student's whiteboard outside their door and videos with students using a racial slur were published on Snapchat.
Covington told the chancellor about her own experience dealing with racism. She said she recently stopped hanging out with a guy who liked her because his "extremely racist" friends made her uncomfortable.
"I didn't want to be around that environment," she said.
When they heard she wanted to dress up as a Black Panther for Halloween because of Beyoncé's performance at the Super Bowl, the students said behind her back that she should dress up as a slave instead.
"They said I should be a slave, so they can walk around and whip me," she said.
Students said they frequently hear people making racist comments in crowds, or find out people are making bigoted comments behind their backs about their race, gender or religion. Veterans at the meeting said they deal with people, including staff, who assume they have PTSD and treat them as unstable.
A wide variety of issues were brought up, but mostly students wanted to know how Kopper plans on improving the climate as a whole.
Kopper promised students at the meeting the issue is one of her top priorities. She said when the problem of racial climate was brought to her attention last semester, she decided to put the issue on her agenda for every cabinet meeting.
She also told students she created a Campus Climate Working Group to handle these issues. The group is being lead by Vice Chancellor of Student Affairs Thomas Rios.
Rios' job includes meeting with students to learn more about their experiences.
However, students from multiple organizations wanted to know more about what specific actions would be taken to prevent this kind of intolerance.
Members of the Whitewater Student Government (WSG) brought up efforts to make residents halls more inclusive. In response to recent incidents, the staff in Tutt Hall have been working with BSU to create a series of programs called "Stop The Slur."
The programs have been created to educate students and residence assistants on diversity and injustice. John Witte, complex director at Tutt/Fischer, reached out to BSU for help developing the programs, so they could share their perspectives with other students.
The need to develop comprehensive, long-term solutions to improve the campus climate was also brought up by multiple people.
WSG President Allison Hetz stressed the importance of finding out more information about these issues.
"We're gathering as much as we can, and I know that everyone wants action as fast as we can," Hetz said. "Trust me, nobody wants that more than me, the Campus Climate Group, and I'm sure Chancellor Kopper, we want to do something, but we want to know that what we do is going to be sustainable."
Sara Kuhl, Director of University Marketing Media Relations and a member of the Campus Climate Working Group reiterated this point at the meeting.
"It's not easy for us to say, 'please be patient, we're working on it,'" Kuhl said. "But we are working on it, we need to hear your stories, we need to hear from you and to understand what it is that we can do."
But patience is running low for those who feel they are dealing with a non-inclusive campus climate on a daily basis.
"We don't want pizza!" junior Reginald Kirby said in a comment on UW-W's Facebook post about Kopper's Feb. 18 statement. "We want change! We're tired of being treated this way."
Kirby spoke at a WSG meeting a month ago, when he was still the organization's clerk, about the campus climate, saying other students come to him with concerns about the word "ni***r" being written in residence halls and being said in Snapchat videos.
Kopper told students at the meeting she plans to gather more information by having a Campus Climate Survey on a regular basis. At the meeting she said the school has not conducted surveys examining the student's experiences often enough.
WSG is also making an effort to learn more about the campus climate by listening to students'  stories. In December WSG launched the initiative "WSG Cares," a movement encourages students to contact WSG to share their concerns. At the Pizza with the Chancellor meeting, Hetz talked about hearing these stories from students.
"I've heard some of the worst stories you can imagine," she said "I've heard sexual assault stories, I've heard 'this person said this horrible racial thing to me.'"
WSG also gave out magnets with "#WSGCares" written on them and WSG's campus  phone number to those at the meeting.
WSG talked about the campus climate at its Feb. 22 meeting, discussing the need to create awareness for the issue in order to resolve the problem.
In response to the events, Kopper has planned more events to talk with students. She said she will continue interacting with students to make sure their concerns are addressed.
"One of the things I strive for, and my goal is certainly, for all of our students and for all of our faculty [and] staff – and for anyone that steps foot on this campus – is that their experience is one of being welcomed, it's one of being valued, it's one of being respected," Kopper said.
Deemed facial, not racial
Tuesday night two students posted a photo on Snapchat wearing a dark exfoliating mask. The product was mistaken for blackface and the photo was shared on facebook and decried as racist by hundreds of students.
The photo made state and national news after Chancellor Kopper released a statement calling it a "disturbing racist post." Local news outlets in throughout the state ran the story, and it caught the attention of writers at the Huffington Post and Fox News.
In response, UW-W alumni Sen. Stephen Nass (R-Whitewater) released a letter calling Kopper's statement an overreaction.
"UW-Whitewater failed to fully review the picture and its context prior to issuing a racially charged statement this morning," Nass said. "The official statement misled students, parents and the public by confirming that a racist event had occurred, even though it really hadn't."
Kopper did not release a statement and was not quoted directly as having retracted her previous statement.
The Royal Purple was not able to contact students in the photo by press time, after repeated attempts to identify them.
Jeremy Miller, former UW-W student and friend of the students in the photo, said he felt it was wrong to assume racism without more evidence.
"I think it's ridiculous that people are so quick to jump to concluding to saying that something is racist," he said. "When that, in itself continues the ugly reality of racism."