MMA fighter, poet shares lessons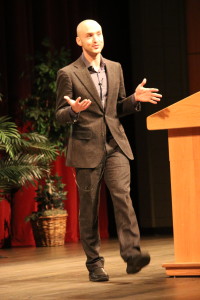 By Nicole Aimone
March 2, 2016
Cameron Conaway went from being a poet to a journalist because of a story he saw on CNN about male sex trafficking in Thailand, he told a crowd of UW-Whitewater students.
He discovered a group of boys of seven and eight years old, who were sold into a life of sex slavery, and as a result contracted HIV/AIDs. This story was what made him realize that journalism was a medium that could help get the boys stories out in a much more efficient and effective way.
"Poetry or a book wasn't going to do it, it would be a year before anything even hit the shelf," Conaway said. "That wasn't going to help. Journalism could."
His story not only helped to bring attention to the many problems that young people faced in Thailand, but also the ability of anyone to do what they feel they should do, Conaway said.
"You weren't just there, you were present," Conaway said as he presented "Bare Knuckle Warrior Poetics" for the College of Letters and Sciences Lecture series on Feb. 29 in Young Auditorium.
Conaway, a former mixed martial arts fighter, presented many lessons about life, as well as issues from around the world he learned about during his many different careers and travels.
One of the lessons that Conaway shared with students was the importance of being present both physically and mentally.
"I have also come to believe that presence isn't just a thing that you do, it's a gift," Conaway said.
This was a lesson that was taught to him while he studied meditation with monks while living in Thailand.
Conaway also impressed the significance of the impact that words, actions and stereotypes have on young people. He stressed the impact of gender stereotypes by sharing a story of when he began identifying as a poet, as people started to assume he was gay.
"When a boy hears stuff like that, they don't just shake it off, it actually goes into them, and they take it in, and actually start to live by it, and it's just really harmful," Conaway said.
This lesson was eye-opening for some students.
"This was something that I never really thought about before, and I think it's  a good thing to hear," freshman Mason Mueller said.
One of the issues brought to Conaway's attention was the rate of malaria in Thailand, where he was able to see first hand the effects of the illness on people with a malaria researcher.
"It has killed 20-25 percent of people, and we still can't find a vaccine for it," Conaway said.
During his experiences with people infected with malaria, he also heard of a problem referred to as "ship break." This is when cruise ships that are no longer able to sail are retired to the coasts of Thailand, and young boys are put to work to dismantle the ship, which are full of toxic chemicals.
Freshman Corey Haack took away the ideals of not giving up on your passions in life.    
"What you can take away from this is to follow your dreams, or follow what you believe in because he did what he wanted to do," Haack said.