Action Forum pulls in high numbers of attendees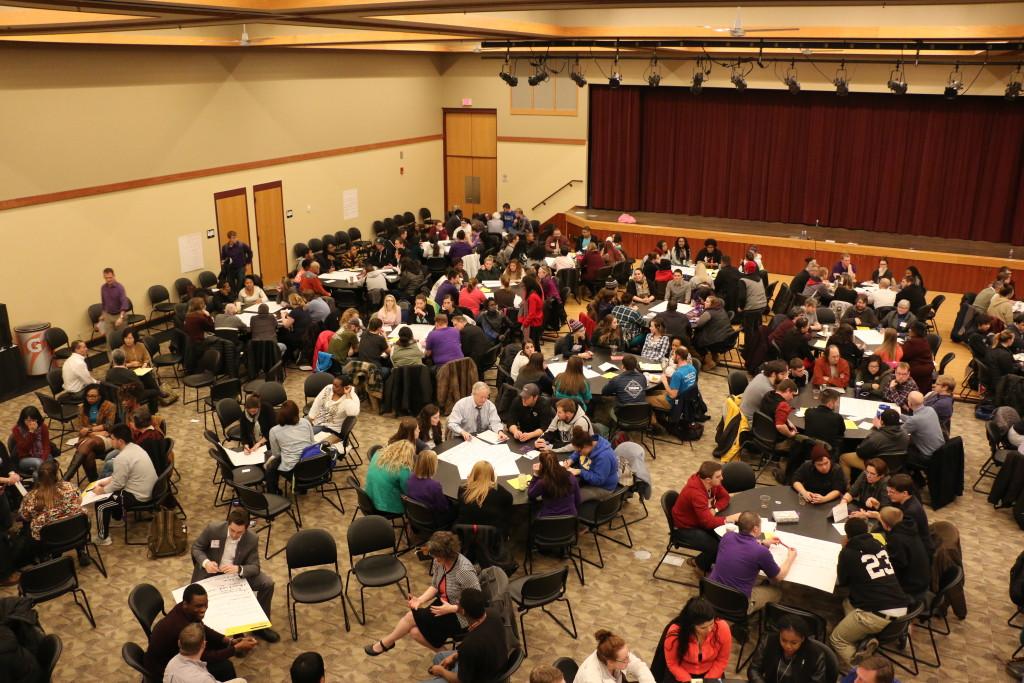 By Kimberly Wethal and Nathan Kober
March 2, 2016
Freshman Ahmya Cheatham said it shouldn't have taken a "Bloody Sunday" for students to rally together about race issues on campus at the Action Forum held last week.
"The most comical and sad thing of it all is that it took a catastrophe for all of us to come together like this," Cheatham said. "That should never be the case … don't take a Bloody Sunday for us to get things together."
Referencing Martin Luther King, Jr. and the day the U.S. government decided to put an end to the violence towards Civil Rights activists, Cheatham said the "blackface" photo on Snapchat was UW-Whitewater's  campus' Bloody Sunday.
The forum, held by the UW-W Campus Climate Working Group, quickly became a standing-room only affair as 430 students, faculty and staff filed into the University Center Hamilton Room. The need to bring out additional chairs for attendees postponed the start of the event by 20 minutes.
The event focused on two main themes – giving students and community members an outlet to share their stories about the discrimination they'd experienced for the first hour, then spending the remainder of the time brainstorming strategies on how to deal with the campus climate.
Students shared stories of being called derogatory terms, being referred to as illegals by their peers and professors and being told their jobs at the PB Poorman Pride Center make them useless.
Working Group member, junior Sam Azzaro, has seen a dismissal of ze's wish to be referred to in gender-neutral pronouns. As an intern for the Pride Center, Azzaro been told their job doesn't matter to anyone.
"In there, I've heard some of the best things about this campus," Azzaro said. "When I'm out of that room, I hear people tell me that my job is stupid and it's a waste of tax dollar money, and 'Are you kidding me, students pay for my job?'"
The event got tense at moments, as members of BSU both called out other members on each other's hypocrisy and asked Chancellor Beverly Kopper if she felt safe on campus.
Freshman Tatyana Covington said she thought the Snapchat photo was a face mask instead of blackface, only to get "backlash" from members of BSU saying she was either with them or against her race.
"I'm sorry BSU, that's not what I stand for," Covington said. "I stand for things that are right. I don't think they had any racial intent to [the photo] and I'm not going to go lashing out two kids. Really you guys, while we're sitting here threatening them, we're being just as bad as they are."
A BSU member shouted back to her, "Don't just blame BSU for something that everybody did."
The short back-and-forth ended quickly, as a moderator stepped in almost immediately to end the shouting match.
Faculty also spoke out about injustices on campus, saying the lack of resources available to them made them unable to give students who've been discriminated against the support they need.
Kopper said there needed to be more done than just talking about the issues.
"Each and every student that comes here needs to feel safe, needs to feel comfortable, needs to be able to pursue their education and their dreams," Kopper said. "That's why we are all here … we need to take action."
Vice Chancellor of Student Affairs and Working Group member Tom Rios asked attendees to take a "deep look inward" when considering the solutions to the campus climate problems plaguing the campus.
Rios reassured students how important their voices are, because they see "all four corners" of what the campus has to offer.
"Your voice is tremendous," he said. "Tonight is about that inward look at ourselves."
Rios made a point during his short speech to reiterate the purpose of the event being an action forum versus just an open forum where ideas are only shared.
After moderators announced the sharing portion of the forum was over, dozens of attendees forewent the "action" portion of the night, grabbed their belongings and walked out the door.
Whitewater Student Government President and Working Group member Allison Hetz took over the microphone after Rios, asking attendees to share their ideas while remaining respectful of those whose thoughts differed at the table.
"In a speech earlier this year, I gave another really good quote that I actually came up with myself, that we all bleed purple together," Hetz said. "We come from different backgrounds, we come from different histories … but we're all Warhawks, ultimately. We all bleed purple."
The Working Group requested attendees think of solutions based on: educational opportunities and cultural competency, accountability and consequences for derogatory actions and what could be done to create the type of campus community they thought to be ideal.
Following the forum, the Working Group announced they would meet on Feb. 26 to "put forth themes" in order to change the campus climate, according to a news release from the day before. They're promising to post new plans to tackle campus climate from the Action Forum online by Wednesday, March 2.
The group has also taken beginning steps to solve the climate issue at hand, which still "aren't enough," Kopper said.
This includes the planning of the forum event by the Working Group, starting discussions on how to support resident assistants and students in residence halls where derogatory phrases are often written on personal and community boards and a new website so students can have open communication with members of the Working Group, she said.
"It is our hope that we will talk about and develop and hear all your voices and follow them up with meaningful actions," Kopper said as the crowd continued to trickle in at the beginning of the forum. "Really, the best way for us to move forward as a campus is for us to do this together."
Voicing frustrations
The student voice came through "loud and clear" last week, Kopper said.
The stories told at the forum echoed those from the Pizza with the Chancellor event on Feb. 16.
Discriminatory actions are happening all over campus, as attendees described situations taking place over social media, in classrooms and in residence halls.
Sophomore Kewaun Smith spoke about his decision to download Yik Yak a few days prior – he didn't keep it around for very long.
After 20 minutes of scrolling through the app, he saw four or five anonymous comments made with derogatory intent.
"With all the things going on, I decided to check it out," Smith said. "It's actually worse than I expected. I expected it to be pretty bad … [people said], 'why do they care about this blackface thing? It was years ago.' 'It was just a facemask.' 'I guess you don't know what ni***r really means.' It was crazy."
Academic advisor Janay Alston said as a staff member, she doesn't get the support needed from the university in order to properly help students.
"I'm at a point in my career where I'm running out of things to say to students," Alston said. "I have had students over the past four years since I've been working here come to me and share their experiences, yet I have to respond to them and say, 'I'm sorry, there's nothing that can be done.'"
Students are becoming more angry and less trusting of the administration as people aren't held accountable for their actions, she said.
Alston has reached out to "the powers that be" in the administration, citing interim Dean of Students Terry Tumbarello as one of her contacts, in attempt to find a way to create consequences for derogatory actions, but has been told there was nothing that could be done.
Tumbarello disagrees with Alston's statement about him at the forum, saying he has "dedicated [his] career to making [a] difference for all of our students."
"We could always do better," Tumbarello said in an email to the Royal Purple. "I am very disappointed that our current legal system prevents public colleges and universities from taking more direct action against individuals who use racist language and wish that wasn't the case."
Alston still feels she's tried to do everything possible to help all of her students, and has gotten nowhere for them in the process.
"I feel defeated," Alston said. "I feel defeated as a staff person, I feel defeated as a community member and I feel like I am letting my students down.
"This is not a black and white issue. This is a human issue."
'Stop the slurs'
Resident Assistant Randy Harvey told students at a forum on Wednesday that he was personally compelled to get involved when someone wrote ni***r on a student's door in Tutt Hall.
As a freshman at UW-Whitewater, the same thing happened to him. He talked to his RA at the time, who said there was nothing they could do about it.
"When I heard the same thing happened I was like, 'Okay, it's go time,'" he said.
Students and faculty held discussions on race and diversity last week as part of a three-day program held from Feb. 22 to 24 in the residence halls to educate staff and residents on diversity and inclusiveness.
On Feb. 24, Black Student Union and other campus leaders held a forum to discuss their feelings about race on campus.
Students at each Stop the Slur meeting said that use of the word ni***r is complicated because many people have different feelings about it. Some of the students said they don't use it personally, and wished other people wouldn't either.
Others pointed out that it is used so frequently in media, especially music, that it will probably not go away any time soon.
Multiple students talked about the need to make the subject easier to approach, stating professors often get nervous talking about issues of race in class.
"We need to lower the grade of scariness when talking about race" Betsy Jordan, a diversity advocate who helped organize the program, said at Wednesday's forum.
Lawrence Bill, an RA at the forum, said he personally doesn't use the word.
"That's just how my parents raised me," he said.
Harvey and other students said they heard it growing up and didn't view it negatively until they experienced racism.
"You don't know it comes from a place of hate until you get to a point where it does come from a place of hate, and then you don't know how to feel about it at first," Harvey said.