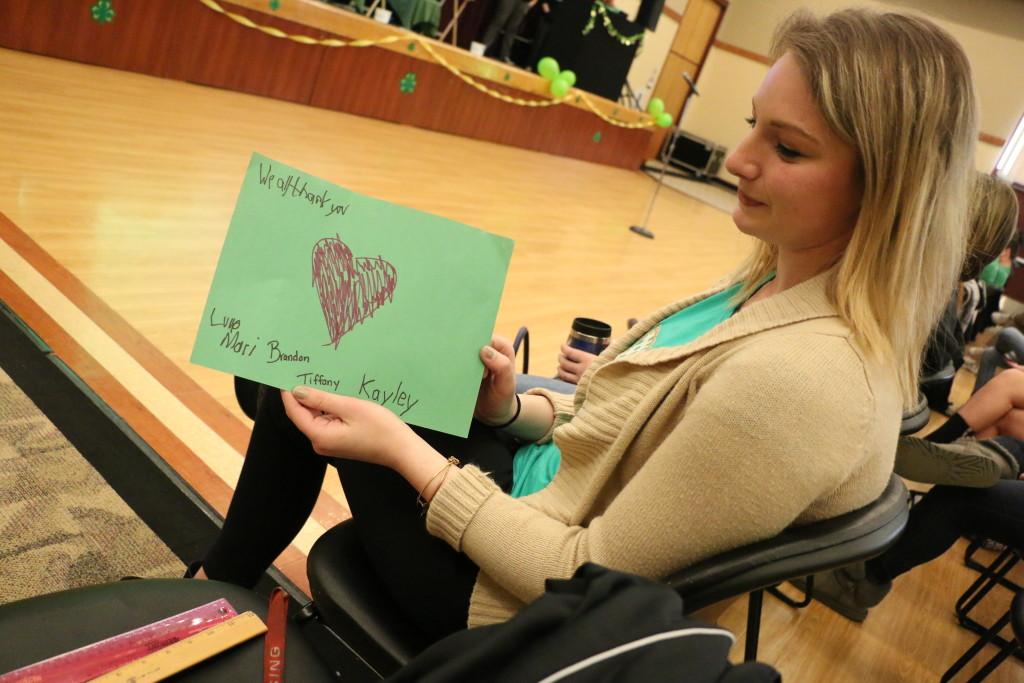 By Emily Lepkowski
March 16, 2016
Junior Clare Thompson celebrated her 21st birthday by shaving her head as a crowd of supporters sang "Happy Birthday" in support of cancer research.
"It's a really weird feeling, I've never had other people touch  [my scalp] before, but it's one of the greatest feelings in the entire world at the same time because it's really empowering," Thompson said
The second annual St. Baldrick's Day fundraiser for pediatric cancer research was held on March 12 in the University Center Hamilton Room.
Raising about $8,000 last year, the goal was hiked up to $25,000.
Sigma Sigma Sigma and Tau Kappa Epsilon fell just short of their goal at the end of the event, raising $21,668.39
Something different about this year's event were guest speakers who told their own personal stories. 
Kayla Tevepaugh kicked off the event with an emotional PowerPoint presentation about her cousin, a 4-year-old girl, with a rare acute lymphoblastic leukemia.
"I want to thank everybody who is here who is doing this even if you're just volunteering, cutting shaving, whatever you're doing it's a great cause and I thank you so much for it,' Tevepaugh said.
Tevepaugh planned on Facetiming her cousin during the event so she could see all the supporters.
"We have a lot more groups and we have a lot more fraternities that are taking part,"  Tau Kappa Epsilon treasurer Nicholas Allegretti said. "Last year we only had like 15 people shaving their head, this year we have a lot more."
Sigma Sigma Sigma sorority and Tau Kappa Epsilon fraternity co-sponsored the event for the first time.
Cheers and screams of support filled the Hamilton Room as people watched the groups on stage shave or chop their hair.
"I was nervous, but I think there was so much time leading up to it that I was just ready to get it done because I hated the anticipation," Thompson said "I was really nervous, I won't lie."
Participants also took before and after pictures of their commitment to help children's cancer research. 
"It will definitely be weird looking in the mirror and not having hair or not putting my hair in a ponytail at the end of the day or even washing my hair when I shower," Thompson said.
Cash or credit donations as well as purple points were being accepted throughout the event. There were also tables of St. Baldrick's apparel for supporters to buy as well as refreshments.
Senior Karli White was among one of the first girls of the day to chop eight inches off of her hair. Her Sigma Sigma Sigma sorority sisters sat down in a clump on the floor in front of the stage, cheering her on and recording her expression as she held onto a chopped-off ponytail.
"The support was amazing with everyone here my sorority, my parents came, it was amazing," White said.
White's aunt, Kathie Wesemann, volunteered to be a barber and shaver at the St. Baldrick's fundraiser, taking the scissors to her own niece's hair.
"I really couldn't have asked for anything more she was so nice to come out here and help, and it made it that much more special," White said.
"I hope this becomes something that is a pride for UW-Whitewater," said Sigma Sigma Sigma president Elizabeth Wachholder. "Just because it has greek letters is does not mean it is a greek event."
"Eventually in the future, I want to get faculty involved," Wachholder said.
Joe Pyzyk, president of board of advisors for Tau Kappa Epsilon, attended the event to support the fraternity as well as the participants.
"We are very happy that our guys are involved in it and it's a great cause," Pyzyk said.