By Kimberly Wethal
March 30, 2016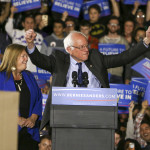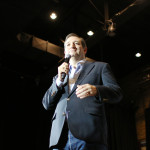 With its bordering neighbor states already won by different candidates, Wisconsin is the next battle ground for the five remaining presidential candidates.
On the GOP side, there's 42 delegates at stake. Minnesota to the west went to Sen. Marco Rubio (R-Florida), whose campaign was suspended following a loss in his home state's primary. Sen. Ted Cruz (R-Texas) pulled out a win in Iowa, claiming eight delegates during their Feb. 1 primary. Current frontrunner Donald Trump has secured wins in both Michigan and Illinois, adding 81 delegates to his lead in the race.
Marquette Law School's last poll had Trump leading with 30 percent of support, Rubio with 20 percent, Cruz with 19 percent and Ohio Gov. John Kasich with 8 percent. The odds have changed, with Rubio's departure from the race, with Cruz leading Trump by one point.
For Democrats, 86 delegates are up for grabs. The bordering states to the south were won by former Secretary of State Hillary Clinton, but Sen. Bernie Sanders (I-Vermont) took home the northernmost states of Minnesota and Michigan. Their wins reflect the trend across the country of Clinton championing in southern states, and Sanders winning those in the North.
It's projected to be a tight race for the two remaining Democratic contenders – Marquette Law School reported Sanders having a one-point lead over Clinton as of February. Clinton had a nine-point lead in November 2015. An Emerson poll now finds Clinton leading Sanders by six.
Kasich, Cruz and Sanders were campaigning in the state as of last week, with Clinton and Trump joining them on Monday and Tuesday, respectively.
Sanders rallies thousands in Madison
Democratic presidential candidate Sen. Bernie Sanders (I-Vermont) joined the fight for Wisconsin with a rally at Madison's Alliant Energy Center on March 26.
Sanders addressed the crowd on reforming the current systems on which the country runs, college tuition costs and student debt and listening to those in underrepresented communities.
Those underrepresented communities include women and the Black, Hispanic and Native American populations.
The rally's venue, which can be split into four sizable halls, each with the capacity to hold hundreds of people individually, had all the dividing walls pulled back to accommodate the large crowd.
The supporters in attendance were a mix of races, with Caucasian making up a large portion of the crowd, and the ages ranged from small children to retired workers.
Sanders' message seemed to resonate with the crowd – all 8,100 of them, according to an Alliant Energy Center estimate as of 6 p.m.
Sanders' rally at the Coliseum next door to the Alliant Energy Center on July 1, 2015, had an attendance of 10,000.
The rally cheered loudly as Sanders announced he had officially won of the state of Washington in the beginning of his speech.
"That is what momentum is about," he said. "With your help, we will win here in Wisconsin."
He had also won Alaska by that point, and eventually won Hawaii, decreasing his delegate gap with Clinton to less than 700.
The Hawaii win put Sanders' delegate count over 1,000, but Clinton still won 22 delegates during Saturday's Northwest showdown.
Bernie continually addressed his differences with Clinton throughout his speech, but he acknowledged he and his opponent agreed on one thing: no Republican should be moving into the Oval office come January 2017.
"Hillary and I agree on one thing: it is absolutely imperative," he said.
Sanders addressed campaign finance and the "rigged" economy he's built his presidential platform upon.
Sanders got cheers as he talked about the Walton's – the family which started and owns more than half of the WalMart retailer chain whose worth was estimated at $149 billion as of July 2015.
They own more than the bottom 40 percent, Sanders said.
"It is not acceptable that the 20 wealthiest people own more wealth than the bottom 150 million Americans," Sanders said. "You guys ready for a radical idea? An economy that works for all of us, not just the one percent."
The business magazine Forbes has published articles in the past three years that suggest their fortune has fluctuated between $10 billion of Sanders' number.
He also elaborated on student tuition, which received some of the loudest cheers from the crowd.
Sanders spoke of a system in America 50 years ago that allowed education to be free for all students up until their high school graduations and college tuition that was affordable.
"This is not a radical idea," Sanders said. "This exists in Germany, this exists in countries in Scandinavia. Fifty years ago, this existed in the United States, when colleges and universities were virtually tuition-free."
He connected the costs of education to a "broken"  justice system, where 33 percent of Hispanics, and 36 percent of Black individuals will see jail time in their lives.
The Federal Bureau of Prisons website lists those who are ethnically Hispanic currently make up 33.7 percent of those incarcerated as of February, and those who are black make up another 37.7 percent.
"We're going to invest in education, because it's cheaper to send a kid to the University of Wisconsin than it does to lock them up," Sanders said.
Sanders slowly rounded off his speech with the idea that his campaign is listening to minorities.
He says his campaign has been listening to women, of whom a majority are "sick and tired" of having a wage gap in the 70th percentile to their male counterparts.
Seventy-seven percent of women and 63 percent of men agree something needs to be done with gaps in pay, according to a Pew Research study from 2014.
For the Hispanic community, he spoke about deportation fears plaguing them and their 11 million undocumented family members and friends. In the African American community, he acknowledged his supportive stance for the Black Lives Matter movement.
It'll take "millions of people to stand up and fight back" to create Sanders' vision of the United States.
"Real change never takes place from the top on down," Sanders said. "It is always at the bottom."
State support
Madison Mayor Paul Soglin spoke an hour before Sanders took the stage, noting the social and economic gaps he believes tax reform – a reform of which Sanders is preaching – would fix.
"Let's get one thing straight – tax breaks for the rich do not create jobs," Soglin said. "Taxes breaks for the rich … concentrate their power so public schools fail, bridges collapse, poisoned water flows into our homes and our schools, and we see the disparity in income grow so that those who do the work and labor cannot provide at home for their families."
Sanders himself also took a few digs at Gov. Scott Walker and his GOP colleagues in the U.S. Congress, condemning the way Donald Trump and Cruz have insinuated a battle over the looks of their wives.
"They are not just an embarrassment to the country, but they are an embarrassment to their fellow Republicans," Sanders said.
He continued the criticism to Wisconsin's political figures, saying Walker might have won the victory over the worker's unions with Act 10 in the past few years, but it'll be "short-lived."
Walker introduced a bill in early 2011 that restricted collective bargaining rights for unionized workers shortly after being elected into the position months earlier, leading to massive protests at the State Capitol.
"That short-term victory will not stand in the long run," Sanders said.
Cruz talks security, jobs in Janesville
This portion of the story was published on March 24. You can read it here.