WSG slates announced at debate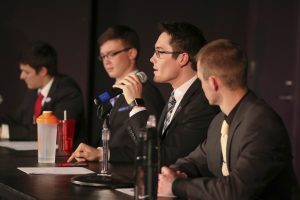 By Emily Lepkowski
April 6, 2016
Seniors David Kroeze and Noah Rusch made their campaigns for the office of Whitewater Student Government (WSG) President public last night, April 5, in a debate.
The small audience – fewer than twenty in total – was able to submit questions to the candidates during the debate taking place one week before the election in the UC Down Under at 5 p.m.
Students gathered in the audience and wrote questions on notecards while listening to the candidates.
Questions challenged the candidates' views on campus-related topics. 
Rusch and Kroeze, along with their respective vice presidential candidates Tom Kind and Kane Poad, sat in a row as moderator and Sustainability Director Nehemiah Chinavare posed questions to the candidates, of which each slate had two minutes to respond. 
Each candidate gave an opening and closing statement to introduce themselves. 
Questions ranged from the "delicate state" of differential tuition to sustainability initiatives.
The debate opened by asking which major issue each slate would tackle first if they took office.
Kroeze spoke first, addressing the recent campus climate issues and the need for every student to feel welcome on campus.
"The first issue hands down is going to be campus climate," Kroeze said. "We have done some excellent work so far with the campus culture working group, and now we need to build on that."
Poad expressed his ideas to continue working with the diversity education requirements.
The opposing slate agreed campus climate is an issue that needs to be addressed.
"Every student should feel represented," Rusch said.
When it came to changes in student dining on campus, Rusch advocated for healthy options in the dining halls.
Poad supported Rusch's idea in addition to expressing his goal of allowing guest meal swipes to be used all week instead of only Thursday through Sunday.   
With executive board applications now available to students, slates were posed the question of what they look for in applicants.
"We want students who care about students, and who have an eye for the university, that are optimistic," Poad said.
Kroeze voiced the importance of applicants who are trustworthy and follow through with their commitments.
"If I give my E-board member a job, it's going to get done," Kroeze said. "Mistakes might happen, but when we own up to that and say 'Hey, I need a little more time,' that professionalism is key to serving as an E-board member and a well-rounded person." 
Slates agreed sustainability is a huge issue on campus and there are programs UW-Whitewater can further expand.
After more than an hour of discussion, each side made their final statements.
Rusch and Kind said they "weren't afraid to speak up when needed" and expressed the greatness of UW-W  in determination to "keep it that way."
Meanwhile, Kroeze and Poad ended the night by maintaining their purpose of working to solve problems and making a difference on campus.
Students can vote online on the UW-W Connect page.