Primary sparks high turnout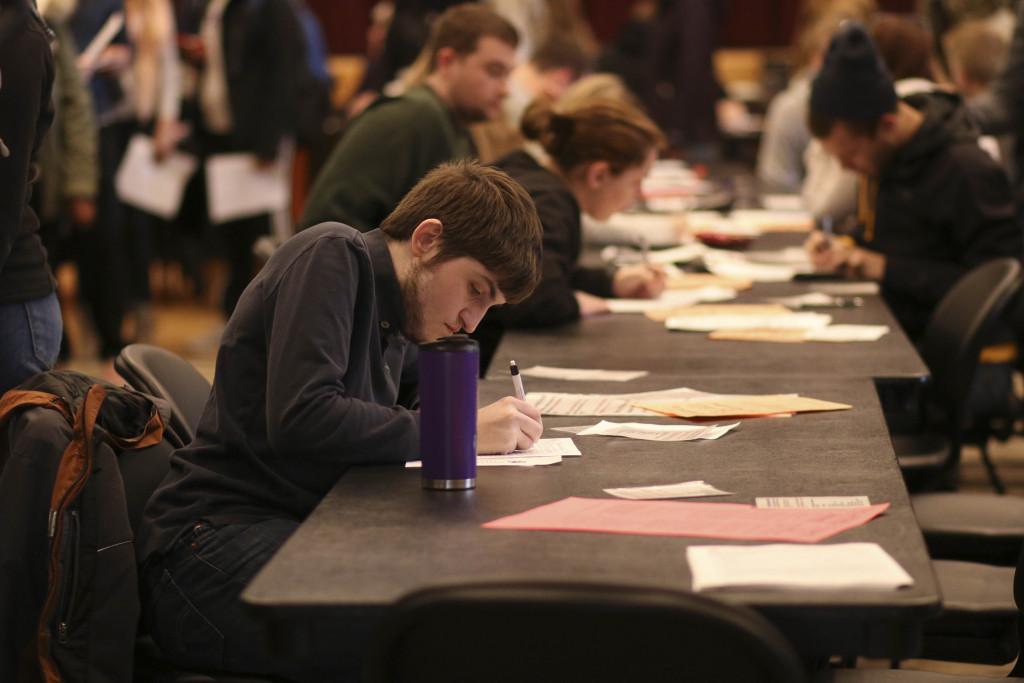 By Kimberly Wethal
April 6, 2016
The HawkCard office was a busy place on April 5, Wisconsin's primary election day.
After months of primaries, it was finally Wisconsin's turn, making UW-Whitewater a hub of activity. Student workers printed dozens of student Voter ID's for those who decided to take advantage of Wisconsin's same-day voter registration and found their out-of-state driver's licenses to be invalid as their photo ID
requirement.
"It's been lines of people," student employee Abigale Rutledge said. "I've been hearing this is the year everyone's voting – it's really important to vote because there's so many big candidates, and so many problems they're focusing on differently."
Rutledge said she and her coworkers spent a lot of time answering questions on Election Day for out-of-state voters who weren't aware of newly implemented voting regulations.
Wisconsin lawmakers reinstated the photo ID requirement in 2014, but the law didn't take place until this week's primary.
The polls in the University Center Hamilton Room were just as busy – by the time the polls closed at 8 p.m., students living on the east side of campus cast 504 votes, and 1,044 from students living on the west side of campus.
The number of students who voted stood at 743 as of 3 p.m., at which point Career and Leadership Development Associate Director Jan Bilgen, who was helping run the on-campus polls, called the turnout "phenomenal."
"I worked the elections for 15 years," Bilgen said. "For a presidential primary, this is the biggest one I've seen. I just like seeing this many people interested in voting."
Chief Election Inspector Bill Smith agreed the turnout was "absolutely incredible," adding his district, which lies on the east side of campus, had a 50 percent turnout rate.
That's up from the usual 20 percent he's seen in the past 15 years.
"I think it's the cast of characters in the election," Smith said. "There's a lot of conflicting personalities, a lot of hot-buttons … it's a very interesting year for an election."
Students who live off campus voted at the Whitewater Armory.
On-campus students were still waiting in a line stretching the width of the UC when it was announced that Sen. Ted Cruz (R-Texas) and Sen. Bernie Sanders (I-Vermont) won the Wisconsin primary.
Front-runners businessman Donald Trump and former Secretary of State Hillary Clinton finished second in their respective elections.
Incumbent Rebecca Bradley, who was appointed by Gov. Scott Walker in October as a replacement for the late Justice N. Patrick Crooks, won the 10-year seat on the Wisconsin Supreme Court after a tightly contested race with opponent district court judge JoAnne Kloppenburg. Unlike the presidential primary, their race took three hours to call.
On-campus students waited in lines that kept them there anywhere from one to two hours.
Smith said the wait students endured was due in part to around 90 percent of voters registering for the first time or completing address change paperwork when they arrived at the Hamilton Room.
There'll be a bigger push for early registration in the next election to avoid the delays and long lines, Smith said.
For sophomore Danielle Sherman, it was a pain to wait that long – literally.
"I suffer from terrible hips and knees so it was a little painful to stand for so long," Sherman said.
But she waited in line anyways, because of how important the act of voting – and the struggle for her right to vote – is for her.
"Sometimes I'm unsure whether my individual vote is making any sort of difference, but I know that exercising my right is my small way of saying 'thank you' to those people," she said.
Sophomore Annie Kailhofer planned on skipping her theatre history class in order to vote, because despite her day being crammed, she sees voting as her civic duty.
Luckily, she didn't have to – her professor cancelled class in order to give his students more time to vote.
Her location on the west side of campus, combined with the lunch rush she voted in, was what made her voting session take a "full two hours."
"What's funny is that essentially everyone that was there to vote from wards seven, eight and nine, which meant they all voted in the same line," Kailhofer said of her ward of residence. "Had I lived in Wells or any of the buildings on the east side of campus, it probably would have taken me five minutes to vote after the registration wait. There was no line."
For more information on registering for the November early election, visit uww.edu/vote.