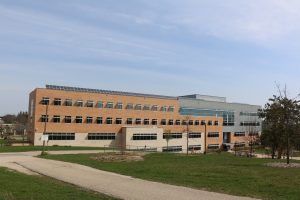 By Brad Allen
April 20, 2016
Conducting research on solar energy and utilizing a solar energy collection panel system on top of Hyland Hall are just some of the systems UW-Whitewater students and faculty have been working on bringing to campus.
The Hyland solar panels are used to help power electrics on campus, such as lights and computer labs. The excess energy is stored at WE Industries, located in Southern Wisconsin. The panels were installed in 2010, and have been operating ever since.
"We're trying to keep as much fossil fuel in the ground as possible, to reduce the amount of carbon dioxide emitted when we produce electricity," Associate Professor of Physics and Whitewater Observatory Director Paul Rybski said.
The panels were funded by a private donation, Rybski said.
"Most of the opportunity to build renewable energy is in the private sector," sustainability coordinator Wesley Enterline said.
Between June 2014 and July 2015, UW-W consumed 32.8 million kilowatt hours of energy on campus. This period cost a total of $2.57 million in electricity alone, according to Enterline.
However, the solar panels produce on average less than one percent of UW-W's total energy each year. The Hyland solar panels contributed a total of 45,000 kilowatt hours of energy during this period, which amounts to just 0.14 percent, Enterline said.
"We're not really in a spot to see a big return on our investment," Enterline said. "The costs are too high."
Solar panel installation costs have dropped dramatically, Rybski said.
"Purchase and installation costs are currently low enough that, with net metering, home owners have been able to recoup their investments in five to 15 years, depending on the size of the solar panel system," Rybski said.
As a means of assisting funding of renewable energy installation projects, many utility providers charge more for non-renewable energy installations to help fund renewable energy installations, Enterline said.
Rybski said the subject is controversial because oil and coal industries are fighting back to try to reduce government incentives for installing solar panels.
"It's sad so many of my generation fight tooth and nail against renewable energy projects," Rybski said. "The world needs to switch over to renewable energy as fast as possible in order to slow and eventually stop the growth of atmospheric CO2 caused by burning fossil fuels to produce electricity."
Until the amount of CO2 in Earth's atmosphere stops increasing, the planet will continue to warm, increasing the severity and number of both damaging droughts and damaging storms, Rybski said.
Rybski said more than 50 percent of all newly installed energy forms in the U.S. in 2015 were renewable.
"There's no reason, other than cost, why solar panels should not be retrofitted to all other buildings on campus," Rybski said.
He said two UW-W students have been researching new methods of collecting solar energy on campus. One aspect they have been researching is finding out which types of coating on the panels could increase efficiency.
Rybski said panels are generally coated with Nano-particular material.
"We're looking at trying to create an ongoing process to be used in future research," senior and project team member Jordan Graham said.
The student research team set up three solar tracking panels atop Upham Hall in 2014. Graham has worked with senior Christopher Hautala on this research project. Graham said the team plans to build a fourth tracking panel.
Tracking panels move positions throughout the day in order to absorb more sunlight than stationary solar panels.
Tracking panels are twice as efficient and collect twice the power, Graham said.
"Some types of solar panels are very efficient yet costly, and others are very inefficient but cheaper," Graham said. "We're seeking to find something on middle ground in hopes of achieving more longevity of the tracking panels."
Graham said a couple disadvantages of solar tracking panels include that moving parts can wear out after a while and harsh weather conditions damage the tracking panels over time.
"The components have to be cost effective," Graham said. "Solar energy is only valuable if the cost is less than alternative energies."
Graham said the hope is for the program to monitor data between 9 a.m. and 3 p.m. The team also is looking into creating a webpage to display the collected solar energy data.
UW-W previously looked into installing solar thermal energy projects in the dining halls and the Center of the Arts; however, these projects were not cost effective, Enterline said.
"It's difficult to meet the challenge of producing enough renewable energy to replace non-renewable energy," Enterline said. "It's not as feasible, and we need storage spaces located off-campus."
The university's contract with Chartwells does not currently call for renewable energy production. This contract is up for renewal in 2017.
"We're still looking into pursuing power purchase agreements," Enterline said. "It helps to diversify the energy profile, and it's something that several other UW schools are interested in as well."
The university has taken steps towards energy conservation. Older windows in the residence halls have been replaced to help trap hot and cold air, to prevent excess usage of heating and cooling systems. Arey Hall has new windows as well, and the heating and cooling systems have been adjusted to save more money.
Enterline said that students can help conserve the amount of electricity and energy used on campus by unplugging laptops and other electronics when not in use, leaving lights turned off during the daytime and being conscious of how much they are using heating and cooling systems in the residence halls.
"Students should be conscientious of the amount of energy they use on campus," Enterline said. "The more energy we use means the more they will have to pay in taxes and tuition."