Watch last week's satire today
April 27, 2016
For those of you that don't know who John Oliver is, I urge you to type his name into your search engine and go to a YouTube treasure trove of greatness. I have, and probably will in the future, spend hours watching some of his best videos from his HBO show "Last Week Tonight with John Oliver."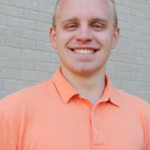 For those of you still confused by who he is, Oliver is a comedian who used to work under Jon Stewart on Comedy Central's "The Daily Show." The British comedian began working there in 2006 and won three Emmys for writing, while maintaining a successful stand up career.
When Stewart took an eight-week hiatus from "The Daily Show" to direct his own movie, "Rosewater," in the summer of 2013, Oliver ran the show to rave reviews. Many critics even suggested that he be the successor to Stewart.
Apparently HBO listened to the critics because three months later, he was awarded his own late night show on the network. I did not stumble across his work until a video on FIFA's corruption popped up on my Twitter feed in the summer of 2014. After laughing hysterically over the way he systematically made fun of both the corrupt organization and the way it was covered, I needed to find more videos. Two hours and many videos later, I was hooked.
For the half hour that Oliver is on, the rest of my life gets put on hold. I listen to him take on the corruption of giant corporations and countries all the way to finding a dog that resembles every U.S. Supreme Court Justice. You never really know what you are going to find with him, but you know it is going to be great.
Some would say that he has liberal tendencies, but do not let that cloud your judgment. He takes on Democrats and Republicans alike, he just happens to have recently shifted his focus to the hypocrisy that is Donald Trump's candidacy.
Some of the videos that have gotten him the most popularity recently feature him systematically taking down Donald Trump along with patenting a Google Chrome app that changes his name to Donald Drumpf every time his name appears online.
Throughout all of his stories, Oliver incorporates countless jokes, memes and merchandise that inspire laughter while also opening the public's eyes to many important stories that people typically don't even bother to form an opinion about.
So, I encourage everyone to go and find one of his videos and give it a shot. Even if you only like a few of his jokes or are not a big fan of the topic he is talking about, find one that you like and prepare to laugh your face off.