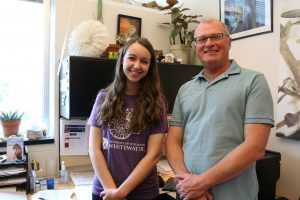 By Emily Lepkowski
April 27, 2016
Studying trends of oceanic and oxygen events has earned one student national acclaim.
As of March 31, geology major Melanie Sorman, 20, received the title of a Barry M. Goldwater Scholar.
"I'm always interested in all the sciences," Sorman said. "That's why I have my physical sciences minor. It's chemistry, physics, math, but more specifically, I'm more into geology and paleontology, that's my area of research."
The highly competitive national scholarship is given to students each year who are pursuing a research based career in mathematics, natural sciences and engineering.
"It's the premier undergraduate award for sciences in the country," associate professor of geography, geology and environmental science Rex Hanger said. "It's very rare and very hard to get."
Sorman won the Goldwater Scholar award for her work studying the trends in oceanic and  oxygen events.
"It's the study of how ancient oxygen levels affected marine invertebrates," Sorman said. "When the oxygen levels get really low, it kills off a lot of the species in a mass extinction."
Sorman has been interested in the sciences ever since her parents exposed her to science as a kid.
"I went to a lot of museums when I was younger," Sorman said. "I went to the Field Museum and seeing that made me excited for earth science. It was that and a geology class I took in high school."
Although Sorman is a junior with senior status, she was unaware of the opportunities she would have at UW-W.
"I did not know that the research program here was big and I didn't expect to have research done," Sorman said. "I just thought I was going to take a bunch of classes."
Professor Rex Hanger talked about his initial work with Sorman.
"We rarely get students that declare geology as freshman and so when we do, I immediately have a look, I look at their records," Hanger said.
This prompted Hanger to spend a semester in the lab to see "how she [Melanie] worked with fossils' before going out into the field."
"Some people look at them [fossils] and they just don't see it," Hanger said. "They see a bunch of rocks. She had an eye. That was her freshman year and every semester we've kind of grown and done different things." 
Becoming a Goldwater scholar
Students trying for the Goldwater Scholarship have to have a starting grade point average of 3.9.   
Students in their second year who have research experience in addition to the grades is something Hanger recognizes as "having the whole package" – something he saw in Melanie.
"We talked about it initially last year and I remember saying, 'you know this isn't your year, it's next year,'" Hanger said. "And so my advance planning is at least a year and a half in advance but then the application process, that itself takes several months."
Getting through the lengthy application process is the first step to being a Goldwater contender.
Part of the process is an interview along a committee who reviews the applications and gives feedback on what needs to be fixed.
"Then a big part of it is at least, on my end, is writing the letter," Hanger said. "You have to have several letters from a professor but the one from the research professor has to be the golden ticket."
After the application is completed, an on campus committee makes sure it is turned in on time, leaving applicants to wait and hope.
Long list of accomplishments
Sorman, the Hoffman Estates Illinois native, will be spending her summer in Washington D.C. as an intern at the Smithsonian Institute. 
"It's the crown jewel of summer internships," Hanger said.
Sorman will be the fourth student from UW-W to have studied at the Smithsonian. Since 2007,  Berkeley is the only other university to have had four students from the same school attend the honorable program. 
The Natural History Research Experiences program has an acceptance rate of 3.45 percent, standing lower than the lowest acceptance rate at Harvard University at 5.9 percent. 
Sorman will focus on Micropaleontology in her internship.
"I'm super excited," Sorman said. "[It's] something I've never done before so it will be fun."
She will also learn an additional program that focuses on statistical information. 
"I'm just so excited to go to the Smithsonian," Sorman said.
Hanger describes the Smithsonian as the World's Museum, explaining the opportunities Melanie will have this summer.
"That particular internship makes it a point of giving them a project to do but then introducing them to all of the other departments," Hanger said. "So, she works with fossils but she's also going to see the bird collection, the mammal collection, the native American collection the gems, meteorites, everything."
Sorman was the recipient of a NASA-funded Wisconsin space grant and consortium award last year and again this year.   
She's also traveled to states like Texas, Nevada and Nebraska for field studies.
This fall, her love of geology will take her overseas to participate in the Wisconsin in Scotland program, where she will do research with a scottish professor.
Hanger discussed their stay at the Dalkeith Palace and the opportunities for their time in Scotland.
"It sits on ancient rocks of similar age what we've looked at in Nebraska, and there's rocks exposed right on the grounds, and of course it's right by Edinburgh," Hanger said.
Hanger confessed it probably shows, but reiterates how proud he is of Melanie's accomplishments.
"Not every student can rise to these levels and it just wows me everyday," Hanger said. "It's going to be a sad day for me when she graduates."