Ground breaks on academic success center's new home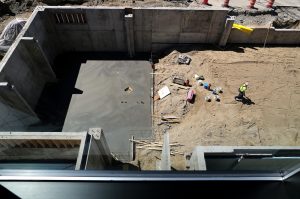 By Nicole Aimone
July 2, 2016
It's been about a month since ground broke near Laurentide Hall for UW-Whitewater's newest addition: the Mary Poppe Chrisman Success center.
The  $4.5 million, 3-story, 18,390-square-foot building will rehouse the campus tutorial services, previously been located in the basement of McCutchan Hall.
"Generous gifts such as this one allow us to reach beyond our current capacity to help students thrive academically," said Chancellor Beverly Kopper in a June 10 news release.
The new building offers many upgrades as well as opportunities in student success that McCutchan Hall did not offer.
Since the 1970s, services have been housed in the basement of McCutchan Hall, in a 5,307-square-foot space that lacks accessibility, air conditioning and adequate technology, the university news release said.
The new space will not only provide more advanced technology for students and tutors, but keep up with the popularity of the free tutoring services on campus.
The building is named after UW-W 1957 alum, the late Mary Poppe Chrisman. Chrisman went on to have a teaching career, as well as being a part of the National Bureau of Standards and the National Oceanic and Atmospheric Administration as a computer programmer.
The name comes after a donation from Mary's husband Bryon, a 1959 alum, who made a donation to the building project.
"My primary motivation for wanting the building named after Mary was that she loved teaching," Bryon Chrisman said. "And she very much appreciated her experience at Wisconsin State College-Whitewater, as it was called at the time."
The Success Center is expected to be open in fall of 2017.