Meet the Candidate: Don Vruwink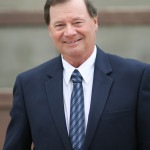 With incumbent Andy Jorgensen (D-Milton) electing to not run again for his seat in the Wisconsin State Assembly, Don Vruwink, a retired social studies teacher for the Milton School District and a city council and school board member, is one of three candidates looking to fill the seat come November.
The Royal Purple conducted a phone interview with Vruwink to discuss his motivations to run for the 43rd District, the issues he's centered his campaign on and his desire to lead a busy life.
Royal Purple: What was your main motivation in running for the 43rd District for this election cycle?
Don Vruwink: There's a number of motivations I've had. First, I'm running to be a champion of public education, because when I started as a teacher many years ago … I felt very respected and valued by our state and our legislator. I think since then, we've entered a period where we've had a Republican majority and a governor who actively work to devalue public education. The drastic cuts to education are going to have a long-lasting effect that we are going to see for a while, especially, I believe, in our two-year colleges. We're one of the few states that don't have community colleges – almost every other state has 'community college' – and we've heard a lot about college debt recently. There are an element of kids that can't afford to go to a four-year school right away, and two-year colleges have been hurt most by the governor's cuts. If they continue to cut the way they are, they might close completely. That was one of my major motivations, because I've had a lot of students over the years that are not wealthy and they can't afford to go to school right away, and those two-year colleges help them considerably.
But I'm also concerned about the fight for public workers. Collective bargaining is still something that I could agree [that] two groups can sit down and work out a contract, so I think we need to restore that.
But we also need to be advocate of good government. I think the first way to have a good government is to have non-partisan redistricting. I certainly would be in favor of doing that.
Also, we need to work for equal pay and respect for women, because they still lack in opportunities, so we need to make sure women are fully guaranteed their rights.
I've been a city council member and I'm currently a school board member [for the town of Milton], having local control over decisions can be as important enough, so that's another reason why I'm running.
RP: What was your reaction then to the 2011 Act 10 Bill that went through, along with all of the controversy that happened at the Capitol with teachers and unions?
DV: Well, I was retiring that year. It wasn't going to affect me and my benefits because I was planning on retiring when that happened. But when it happened, I went to the Capitol every weekend to protest, because I value teachers and public workers. I saw how devastating this was going to be to teachers, and now I'm seeing how it plays out. We've lost a lot of good teachers; something's different in school districts in the past five years, a lot of teachers have quit or they keep moving around looking around for better pay. We see university professors leaving because they don't have the tenure, they're not protected. So it's starting to have an effect upon us now, so it's been devastating to our state and we need to restore some of the things we've had before.
RP: You have four issues listed on your website as issues you're concerned about in this campaign cycle. Would you say education is the one you feel most passionately about?
DV: Well, education is what I know and what I see, so I've seen 40 years of change. It's changed considerably here from when I started 40 years ago. One of the things I don't like happening now is teacher effectiveness. That came about with our governor, but also with President [Barack] Obama with Race to the Top. Every president comes in with an education plan, and I think they all have merit, but the educator effectiveness plan really takes a lot of time to implement, both for the administration and for the teachers. Teachers spend up to eight hours for just one evaluation on their teacher effectiveness plan. I feel that could be better spent with them preparing for their classes or doing something to make their classes better. That's something I think we really need to take a look at.
RP: In a perfect world where you could get any legislation passed, what would be the ideal legislation to help start curbing some of education's problems?
DV: The first thing I think we need to do is restore all of the cuts to the two-year colleges, because it seems like the poverty rates nationwide keep going up, and I think if I saw Wisconsin [correctly], 48 percent of our students are eligible for free lunches. So that's a concern to me. It's telling me that students in our state don't have a lot of extra money on them, if they qualify for free lunches. So if we want some of these kids to have a chance at a career path, you have to find a way to do it without going deeply into debt.
Two-year colleges that are close to them allow them to go to school and work at the same time without accumulating a lot of debt. We need to restore the cuts fully to the two-year colleges. You could even take U-Rock [UW-Rock County] could be an extension of UW-Whitewater. If you wanted to go to U-Rock, U-Rock would be in tune with what's going on at Whitewater so all the credits could transfer and it would make it more of a better flow for them. Then they only have worry about two years of maybe having to pay [higher tuition] and then they wouldn't have to live on campus, so it would allow them to cut their costs. You see, two-year schools don't have alumni to help them with funding, since nobody graduates from U-Rock with a [bachelor's] degree, but they did from Whitewater, where they get money back.
In a perfect world, I'd like to see these two-year colleges be back to being fully-funded, because that would help kids then who wouldn't have the opportunity to go to a four-year school. It could certainly encourage them to get a degree.
RP: A lot of your concern is with the two-year colleges. What kind of ideas did you have for students at the four year colleges like UW-Whitewater to help elevate some of the college costs?
DV: With the cuts to the four-year schools – I shouldn't say all of my concern is with the two-year schools, but I saw them hurt the worst, so I think they need to be funded – but I'm not disregarding the four-year schools. The cuts to the four-year schools, what happens is we froze tuition, but people can't get into their classes. They're still there for five years, so their tuition might be cheaper because it's frozen, but if they can't get their classes, they're going to spend another year there. You really haven't gained anything. It's another full year before they can get out into the workforce. So I think that's a problem.
Also, there's been a number of bills to look at reducing rate of interest students pay for their loans. I think that makes a whole lot of sense, because I can get a home loan for for less than 3 percent, while students are paying 6 percent. That doesn't make a whole lot of sense to me, and I think something has to be done about that. It takes you out as consumers. Once you graduate, you're loaded with this college debt, and you have to pay that back. I think I saw a statistic where it said 25-30 year-olds, a third of them are living with their parents because they're paying college loans back. Certainly our consumer economy is driven by spending, and certainly that group of people aren't spending, because they're paying their college loans.
RP: How do you feel your experience as a retired social studies teacher and a coach is helping you in during the campaign?
DV: When you have more than one job, you learn to multitask. In my 40 years of teaching, I always never just taught; I've also had other jobs. When I retired as a teacher, I became a city council member and now I'm a school board member. I've always had to multitask and manage more than one job. When I was teaching full-time, there was a time when I was coaching high-school teams, so I was coaching plus I was recreation director for 12 years, while I was doing all of the coaching. Plus, I was going back to get my master's degree and I have a Master's plus 30. I'm one class away from a doctorate. So taking classes, coaching, being the recreation director and having a full-time job teaching, it teaches you the discipline you need to work 12, 14, 16 hours a day you need to run a campaign.
RP: What has the campaign been like so far?
DV: It's been a learning experience. You never know what something is until you actually get involved with it, with the day-to-day part of the campaign. I mean, I've helped with many campaigns. I worked on President Obama's campaign when he was elected, I worked on Feingold's campaign. I helped my cousin with her campaign, I did doors [going from door to door] for her campaign, but never did I realize that the day-to-day things of what you have to do and you have to prepare for, and the interviews you have to get, and the lit pieces you have to get together – everything that has to be done comes with experience. It's like your first year of teaching. My first full-time campaign has been, like I said, a great learning experience. I'm learning to better balance it all the time.
RP: How have you found yourself reaching out to constituents during your campaign? What kind of events and public appearances have you done in order to make yourself known to the constituents?
DV: In the area I live in, Milton, I'm pretty well-known because I've been a coach, I've been an umpire, I've run recreation programs. So for the School District of Milton, which encompasses some of my district, I'm pretty well-known there. I don't really need go to the [Milton] events, because I've been to those events. But having to attend forums, having to go to picnics, having to go to interviews for different groups and attending the township meetings – I think we have 15 townships in the district – and I've gone to 12 of those meetings. Some I couldn't attend because those are school board [meeting] nights. You can't get to everything, but you try to get to everything you can to make yourself known as a candidate.
RP: Do you have any other comments you'd like to add?
DV: All my life I've balanced more than one job, and if elected to the assembly, I plan on continuing my school board job, because if I didn't have more than one job, my life wouldn't seem fulfilled because I'm a person that likes to be busy. I'm a person that likes to meet people, and that's why this challenge is a good one for me. It's allowed me to meet so many different people, which is what I feed off of. I like meeting different people and listening to different opinions. It's the fun part of the job, meeting so many different people across the district. And that's what I look forward to: meeting people each day when doing doors or going to events, always running into someone I didn't know before. You create another friend. That's what I think is very important, that I listen to their concerns. That's what I enjoy doing, and accomplishing things.
–Kimberly Wethal