Campus says goodbye to swimmer
By Emily Lepkowski
Sept. 14, 2016
Everyone who filled the bleachers of the Kris Russell Volleyball Arena on Sunday, Sept. 11 wished they wouldn't have been there in the first place.
A Celebration of Life ceremony was held at 1 p.m. inside the Williams Center for 21 year old student Spencer Twining, who passed away Sept. 8 in a motorcycle accident, in Waukesha county.   
"We are heartbroken to lose Spencer," Amy Edmonds, athletic director of Intercollegiate Athletics, said. "An exemplary student athlete who was deeply respected across campus and in the community, a Warhawk through and through."
Campus honored Spencer by flying the flags at half staff on Sunday as well as a moment of silence before Saturday's football game at Perkins Stadium.
Twining was a Janesville native who planned to graduate early with a physics degree and a job already lined up. 
He was also a member of the men's Swim and Dive team.
Twining was among the top finishers for the Warhawks in the conference championships the last two seasons in the 200-yard breaststroke, 200-yard medley relay and 400-yard medley relay. He received second-team all-conference honors in the Wisconsin Intercollegiate Athletic Conference in the 100-yard breaststroke in the 2014-15 season .
A memorial fund has been established in Spencer's memory through the Whitewater Foundation, where people can make contributions.
Students, family and faculty gathered at the celebration telling their memories of Twining ranging from wild college nights to road trips and final moments.
Physics professor Robert Benjamin had the opportunity of getting to know Spencer as a freshman in one of his classes.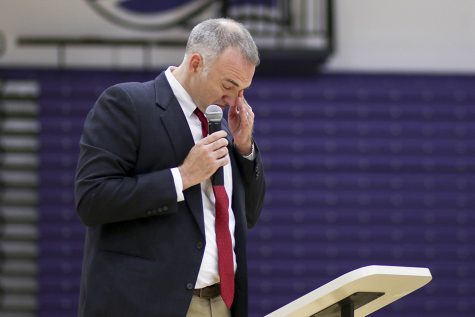 "The more I got to know him, the more I liked him," Benjamin said. "He was friendly, he had a quirky sense of humor, he was thoughtful and he was unfailingly polite."
In his academic career, Twining had the opportunity to work on undergraduate research – winning a Top Poster Presentation award last semester.
Chancellor Beverly Kopper recalled the honor of presenting Twining with the award and remembering him explaining his research.    
"To hear him speak was to hear a student who fervently believed his work could and would someday make a positive difference in the world," said Kopper.
Spencer was described as a driven individual in his athletics and academics.
Swim and Dive coach Joel Rollings was overcome with tears, calling Twinings a 'valued member of our team.'
Rollings asked to keep the family in thoughts and prayers becuase 'It's not the end it's the beginning'
"He should be there for the Christmases, he should be there for the Thanksgivings," Rollings said.
"We lost Spencer far too soon but his legacy lives on," said  Kopper. "And today is a celebration of his amazing life."
Many of  Twining's family and friends remember him as being quirky and funny.
Younger brother, Nolan Twining, shared some of Spencer's quirks like his fascination with rubber ducks and his love of KidzBop music.
Nolan spoke to Spencer's classmates saying 'He didn't stop talking about you guys, ever'
Spencer's mother thanked the Warhawk family saying 'he loved his life on the Whitewater campus like I've never seen it before.'   
Students can seek help at the University Health and Counseling services in the Ambrose Health Center by making an appointment at 472-1305.
"UHCS is a wonderful resource on campus," said Edmonds "Everybody deals with something like this so it's really important that they stay connected for awhile." 
Being with loved ones and supporting others is also a good way to stay connected in the healing process.