Pfiefer, Wagner soar as 'Hawks squad falls
By: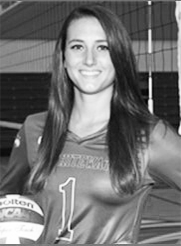 Kyle Weaver
Oct. 5, 2016
The No.12 UW-Whitewater volleyball team's win streak ended at seven matches on Sept. 27 with a 3-2 loss at No. 11 UW-Stevens Point.
During the streak, UW-W (12-4, 1-1) hadn't lost a set in five matches and only dropped one of its last seven.
UW-W took the first set 25-20 before the Pointers (19-2, 2-0) took the next two sets 25-19 and 25-14, respectively. 
The 'Hawks were able to win the fourth set 25-16 to keep the match alive before UW-SP won the match with a 15-8 victory in the fifth set.
Head coach Stacy Boudreau knows that the team can play better than they did versus UW-SP.
"We didn't execute when we needed to," Boudreau said. "Yes it was a hard fought match, but I definitely believe we didn't play our best."
Senior outside hitter Lauren Pfeifer recorded eight kills and 12 digs. Junior outside hitter Sydney Racky led the team with nine kills, while junior middle hitter Courtney Wagner posted seven kills, five digs and five blocks.
Racky said the Warhawks' ability to control matches can affect them at all times.
"We always control the game whether we play down or to our benefit," Racky said. "No matter who our opponent has been, our wins and losses are determined by our quality of play."
Over the weekend, UW-W participated in the UW-Oshkosh National Preview tournament.
The field consisted of 10 teams, three of whom were ranked in the top 25 including UW-W.
The 'Hawks played in four matches in the tournament and came away with a 3-1 record.
In their first match on Friday, Sept. 30, the     Warhawks swept St. Mary's College (Indiana) three games to zero.
The 'Hawks recorded eight errors in the match, a season low. Pfeifer led the offense with 16 kills, one shy of her season-high. Senior setter Staci Hasler finished the match with 27 assists and
seven digs.
UW-W finished the first day of the tournament with a 3-1 victory over Carthage College.
Sophomore middle hitter Amanda Spera registered a team high 10 kills.  Five Warhawks recorded eight or more kills or digs.
On Oct. 1, the competition heated up as UW-W faced Trinity University (Texas) who is receiving votes in the latest American Volleyball Coaches Association (AVCA) national poll. 
UW-W dropped the first two sets 26-24 and 25-22 to fall into a 0-2 hole. The 'Hawks then rallied to take the next three sets and win.
UW-W's hitting percentage improved in every set and culminated with a .500 percentage in the decisive fifth set.
"It was really a gut check for us," Boudreau said. "They ran a really fast offense and it took our team a couple sets to learn to play that kind of style and pace of the game."
Racky tallied a season-high 16 kills and a .500 hitting percentage in the match. Wager recorded 13 kills, four digs and four blocks. Sophomore libero Brittany Robinson led the team with
27 digs.
Racky's offense helped rally the Warhawks, but she was unaware that she set a season high total.
"I didn't really notice until after the game," Racky said. "It just felt right, I tried to go out there and contribute and help the team as much as I can."
In their final match, UW-W was swept by No. 18 Elmhurst College (Illinois) three games to zero. 
It was only the second time this season the 'Hawks were swept in a match, since defending national champions and No. 1 ranked California Lutheran did it on Sept. 9.
UW-W was only able to register 11 digs as a team compared to Elmhurst's 36. Pfeifer registered 12 kills and two blocks in the match.
The match against Elmhurst was the 'Hawks fifth match of the week and Boudreau said that many games played consecutively can take a toll.
"That was our fifth match of the week so we were at a little bit of a disadvantage as far as energy level and games behind us," Boudreau said. "But that's division three volleyball you know you're going to be playing four to five matches a week."
Following the tournament's conclusion, Wagner and Pfeifer were named to the All-Tournament team.
The 'Hawks will continue play against Concordia University on Oct. 5 at 7 p.m. in Mequon.