UW-W Republicans host Gov. Walker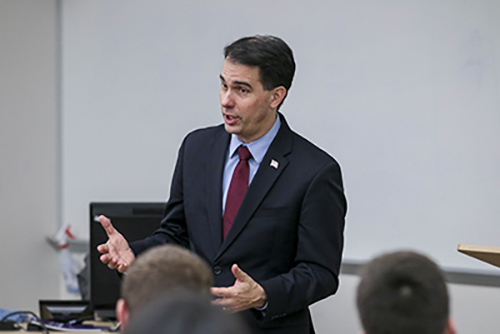 Addressing issues of college affordability, employment prospects and other economic issues facing Wisconsin college students, Scott Walker spoke to the University of Wisconsin-Whitewater College Republicans Monday Jan. 23. Walker also spoke to the audience about the future of the Wisconsin GOP and his upcoming policies.
Alex Walker, Chairman of the UW College Republicans and son of Scott Walker, has worked to have Walker visit campuses more often.
UW-W College Republicans President Laura Soegen said she hoped having Walker speak at the organization's first meeting of the Spring 2017 semester would raise awareness for the organization and bring in new members.
"I'm hoping students will realize we're not just a small org on campus," Soegen said. "We're bringing in speakers and having these events to get more
people involved."
Focus on Students
Walker said he will try to decrease tuition with his upcoming budget proposal. It would be the first tuition cut for the UW System in decades.
State funding for the UW System has been cut in Walker's previous budgets. While almost all states cut funding for higher education following the 2008 economic recession, most have since reversed the trend.
Wisconsin was one of only nine states that continued to cut funding in 2016, when it cut a larger percentage of higher education spending than all but one state.
In order to cut tuition, Walker has said he plans to invest more money in the UW System for the first time as governor. However, he said the money will have to be given in a way that allows him to make sure it is used responsibly.
Outside of college affordability, Walker said Wisconsin's job market has improved because of his policies. Unemployment in Wisconsin is estimated at 4 percent, down from 9.2 percent when Walker was elected in 2010.
"Now is a great time to be looking for a career in Wisconsin," Walker said, "because employers are desperately looking for people to hire."
Red Upset
Walker thanked the UW College Republicans for their help in the 2016 Presidential election. It was the first time since Ronald Reagan's 1984 election that Wisconsin voted for a Republican president.
"The last time Wisconsin voted Republican in the presidential election was when I was in high school," Walker said, "Put that in perspective."
When he was asked about his hopes for the Republican party at the national level, Walker said he hopes they will keep their campaign promises, specifically their promise to repeal the Affordable Care Act.
"Don't try to wriggle around just repeal it outright, because the voters, that was clearly what they expected," Walker said. Walker said Republicans should have a replacement for the bill, and that some parts of the law should be maintained. Protection for people with pre-existing conditions was one aspect of the law specifically that Walker said should stay.
Opioid health crisis
Walker was also asked about his plans to combat a recent increase in opioid drug overdoses in Wisconsin.
sin.
On Jan. 5, Walker convened a special session of the Wisconsin State Legislator to deal with Wisconsin's growing opium epidemic, calling it a "public health crisis" in a news release.
Walker said reducing prescription drug abuse a major focus of his plan.
The effort is expected to be bipartisan, and include measures such as increased funding for rehabilitation and legal immunity for people seeking medical help from an overdose.