Warhawk wrestler earns national championship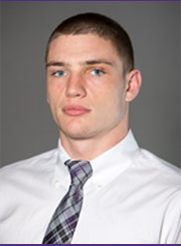 The UW-Whitewater men's wrestling team crowned its first individual national champion since 1991 on March 11, when junior Jordan Newman defeated his fifth-seeded opponent in the 184-pound weight class championship match at the 2017 NCAA Division III Wrestling Championships in La Crosse, Wisconsin.
Newman breezed through his first two opponents with decisions of 8-1 and 15-8 on March 10, and earned 18-1 technical fall triumph in the semifinals on March 11. In the championship match, there was no need for a decision, as the third-seeded Newman found the title-clinching pin at 4:03.
Head coach Ned Shuck contributed Newman's title run to his consistency and his thoroughness.
"He took care of all the little details he needed to take care of and that's what champions do," Shuck said. "It payed off for him this weekend."
Although the national title was an individual one, senior Zac Denny said it was still an exciting moment for everyone.
"It feels good to finally get one, especially while I'm a senior," Denny said.
From a team standpoint, the Warhawks brought four wrestlers to the tournament and ended with a team score of 31.5, good for a tie at the 13th spot.  The team was just three-and-a-half-points away from cracking the top eight.
Along with Newman and Denny, senior Joseph Brodman and freshman Devin Tortorice both competed in La Crosse.
The third-seeded Denny won his first two matches of the tournament at 125, before falling in the semifinals to a 5-2 decision. After two consolation  matches, Denny secured the fifth-place spot. The win in the second consolation match gave Denny All-American honors, the second time he has done so in his career.
Brodman (133) and Tortorice (141) each had early exits from the tournament. Both lost their first-round matches and their following consolation matches.
Three out of the four losses for Brodman and Tortorice were decision defeats by one point.
Although the Warhawks had some individual performances that resulted in high point marks for the overall team score, Shuck said he thought his wrestlers left some points on the board.
"Zac Denny had a good tournament, he's an All-American," Shuck said. "But we really felt like he was a guy to have potential to win it too, it just didn't go down that way. Devin Tortorice and Joe Brodman, the same thing."
Even though Shuck said he thought the team left points on the board, he wasn't disappointed in his team's effort.
"I'm proud of every one of them," Shuck said. "They wrestled their guts out, they wrestled really hard. They did everything I asked them to do."
Denny echoed a similar view to his coach.
"Personally, I feel like I did just what I wanted to do," Denny said. "I was working with the coaches on a bunch of stuff pre-nationals and I executed those things in the match."
Shuck will enter his fourth year as head coach in the 2017-2018 season and will return two of his four wrestlers that qualified for the NCAA Championships, including Newman who will look to repeat as national champion.