UW-Whitewater names new athletic director
Garzarelli fills months-long vacancy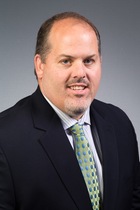 Todd Garzarelli was chosen as the director of intercollegiate athletics at the University of Wisconsin Whitewater on Tuesday, June 20, by Chancellor Beverly Kopper.
Garzarelli is coming from the State University of New York at Buffalo, where he served as the senior associate athletic director of external affairs. He has also served as an associate athletic director at Northwestern State University, Southern Illinois University Edwardsville and Northern Illinois University.
"We are pleased to welcome Todd Garzarelli to the Warhawk family," Kopper said in a news release.
Garzarelli replaces Amy Edmonds, who stepped down to her prior role as associate athletic director last October and left UW-W in December for the UW-Madison Police Department.
At Buffalo, Garzarelli's responsibilities included managing multiple sports programs and their operations, as well as the branding for the department.
He was also responsible for helping to secure the department's first six-figure scholarship and  helped raise nearly $1.75 million in corporate scholarships for the department.
Garzarelli earned a Bachelor of Science from Slippery Rock University for sports management, and a Masters of science in sports management from Northern Illinois University.
Garzarelli's first day at UW-Whitewater will be on July 10.