'It will Ultimately Save More Lives'
Four police officers advanced down the corridors of Hyland Hall behind the cover of a riot shield, checking each classroom for potential threats.
The officer holding the shield commanded a man wearing a hooded sweatshirt to stop moving. After he chose not to comply, the policemen pursued and engaged the man using firearms loaded with practice rounds.
The scenario was part of multiple training sessions last week where police officers prepared for times when they may encounter an active shooter or a situation involving hostages.
The training exercise was part of a two-day session on Jan. 16 and 17 in which officers from the City of Delavan were invited to the University of Wisconsin-Whitewater campus to train alongside officers at UW-Whitewater said Matt Schwartz, Assistant Chief of UW-W Police Services.
Active shooter scenario training is an annual process for both police departments, Schwartz said. He added that although no single event has spurred an increased need for training, it's important for officers to routinely train.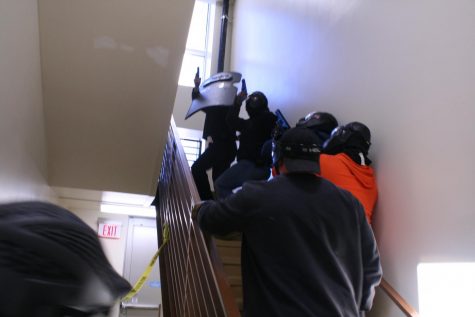 "The training is meant to give officers more options and tools to establish the basic framework to do their jobs efficiently while remaining safe at the same time," Schwartz said. "It's nice to train in a static environment to form that knowledge base so officers can think and act quicker."
The assistant chief was happy that the department got the extra practice in.
"Having that additional knowledge and experience to pull from is critical," Schwartz said. "Overall, Whitewater is a pretty safe place, but it's about what police can do if the need arises".
City of Delavan police lieutenants Ryan Milligan and James Berlin have both been involved in real situations involving an active shooter with hostages.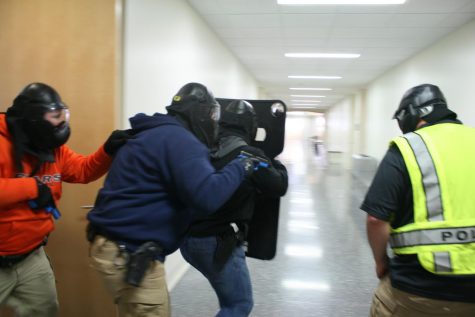 Milligan said annual training sessions help prepare officers to better respond to emergencies where a substantial threat is involved.   
"The continued practice makes us better, and it will ultimately save more lives," Milligan said.
Berlin agreed.
"Anytime an emergency situation occurs, the officers' preparedness is key," Berlin said. "Training for such scenarios allows officers to be tested on how they would respond in a real situation, and it helps to bring newer recruits up to speed on various tactics for resolving those situations."
The training also helps officers with networking and building camaraderie, which is useful because they meet the other police personnel they'd most likely be working with in a real active shooter scenario.
"The more we work together, the smoother our movements will become," Berlin said.