Blind Student defies odds
UW-W senior uses determination to earn her degree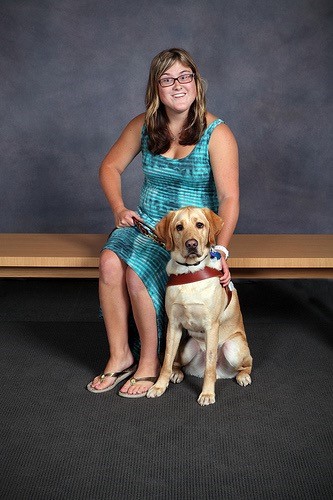 Benjamin J. Pierce, Managing Editor
May 8, 2018
Senior Elizabeth Fideler is as determined as they come.
The corporate and health communications major is set to graduate this month, but her diploma means a lot more than just another life step.
Graduation is an accomplishment many people in her situation don't achieve – Fideler was born with Nystagmus, a medical condition that causes uncontrolled movement of the eyes. In Fideler's case, that meant losing her eyesight.
According to the United States Bureau of Labor Statistics, only 16.4 percent of students with a disability graduate with a bachelor's degree, compared to 34.6 percent of the general population.
Fideler is preparing for her upcoming graduation, but she was almost on the other side of the statistic.
"My biggest challenge was in high school, when I wanted to go to college," Fideler said. "[Her high school] told me I wasn't going any further than high school. Because of my disability, a lot of my teachers thought I couldn't do a lot of things."
But Fideler persevered, applying to the University of Wisconsin-Whitewater and other campuses. She realized she wanted to be a Warhawk, in part because of the proactivity of the Center for Students with Disabilities (CSD).
CSD Director Elizabeth Watson said the department wants the best for disabled students.
"We want to give these students a support system that believes in them and helps them break down emotional and social barriers," Watson said. "Sometimes, students have to fail a class to be a better student. Failure is not a traumatic ending, but is an opportunity to learn and grow."
CSD runs multiple programs for UW-Whitewater students with disabilities, such as the summer transition program that tests students for college readiness. Those who start this program have a 51 percent graduation rate compared to the aforementioned 16.4 percent. CSD also provides adaptive technologies for use in the classroom so students don't have to pay for them out of their own pockets.
Watson highlighted the summer transition program's success. CSD begins working with these students during high school, allowing them to work with UW-W faculty in order to build solid relationships prior to their arrival on campus.
"There is nobody on this campus – from the chancellor to the janitorial staff – that isn't here for these students. We want these students to be successful," Watson said.
Fideler said she made the right decision in becoming a Warhawk.
"Whitewater has done so much for me and has given me things I never dreamed I would have the opportunity to do," Fideler said. "The faculty has done a lot to help me overcome challenges and be successful."
Fideler gets around campus with the assistance of her service dog, Victor. She used a white cane before receiving Victor in 2013. The six-year-old Labrador Retriever accompanies Fideler almost everywhere and helps her navigate stairs, curbs and corners.
"I love him very much, even though he is kind of a stinker," Fideler said. "He has brought so much joy and happiness into my life, and everybody I meet loves him."
Perseverance through pain, rejection
In her free time, Fideler enjoys singing and swimming. Earlier this year she sang the national anthem at a Warhawk basketball game. She continues to compete with the area J-Hawk Aquatic Club.
But even in her favorite pastime, there was rejection before coming to Whitewater.
"Swimming is something I really enjoy doing because it's peaceful and I can count my strokes and really tune into what I'm doing. My high school told me I couldn't swim on their team because I was a liability with my blindness," she said.
After spending a few years away from swimming competitively and instead swimming just for fitness, Fideler decided to give it another shot when she arrived at UW-Whitewater and joined the J-Hawks.
It's a decision that has paid dividends.
Since joining, she has competed for Team USA on multiple occasions, and she hopes to compete in the Paralympics in coming years.
"I feel free when I swim. Since I suffer from cerebral palsy as well as my blindness, I'm actually better in water than I am on land," she said with a smile.
Her perseverance doesn't end in the pool.
Dr. S.A. Welch, a professor in the Department of Communication, has taught Fideler in multiple courses and has seen her grow into the student and person she is today. She recalled meeting Fideler for the first time and noticing her tenacity.
"When I first met her, she was very shy and the students were doing group work, which is hard for someone who is blind, but she really worked at it and kept coming to my office and working through things. The persistence was very impressive to me," Welch said.
Welch said she couldn't divulge specifics on other students and academics, but she added that Fideler has earned a higher GPA than most of her students despite the challenges she faces.
"All she does is hear my lectures," Welch said. "In order for her to read the notes, she has to have them enlarged to 24 font size and it takes her multiple steps to study for an exam because she can't just flip open her notebook and see all of her notes."
On the most recent exam one of Welch's classes, Fideler had the second-highest score. Welch said her student's perseverance helped her succeed, and that she isn't surprised at all Fideler has defied the odds and will graduate in May.
"She was pretty much told she would never get into college, and she is about to graduate," Welch said. "She has taught me things too, such as how to call out to a blind person. She is very funny and very calm and sweet. The challenges she has overcome are amazing."
Fideler hopes to use her degree – the one she was told she would never have – to become an inspirational speaker and advocate for people with disabilities. Due to her perseverance, she will get that chance when she graduates as a UW-Whitewater Warhawk.