Volleyball favored to win WIAC
UW-W put up a 22-8 record in 2017, reaching WIAC final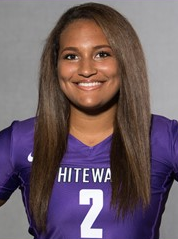 A preseason poll shows the 2018 Wisconsin Intercollegiate Athletic Conference's (WIAC) head coaches and informational directors predicting the University of Wisconsin-Whitewater women's volleyball team will win this year's championship title.
The Warhawks finished their 2017 season with a 22-8 record and reached the WIAC Tournament final. They plan to continue their success into this upcoming season.
Senior defensive specialist Brittany Robinson will lead her team again to keep the favors alive for the Warhawks. In the 2017 season, she was named the WIAC Defensive Player of the Year and a 2017 third-team All-American.  
The team has gained new freshman after losing some key players last year.
"I think the incoming freshman this year are a great addition to the team," Robinson said. "They are all very talented, so they are pushing everyone else to work hard every second of every practice.
Senior outside hitter Amanda Spera also will return to help lead the women this season.
"Our ultimate goal for this season is to take it all the way…win the national championship," Spera said. "That is the main goal, especially for seniors in their last season on this team."
Each of the seniors can agree  their goal this year is to win the regular season conference title, which would allow the Warhawks to host the conference tournament. If the Warhawks win the conference tournament, they receive an automatic bid to the NCAA Tournament.
"It is always a good goal to make it to the post-season and win that national championship," Robinson said.
Spera and Robinson are not alone in their final season. They are joined in their senior class by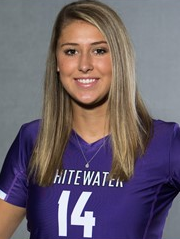 middle hitter Kelley Berk and setter Elizabeth Niestrom. These four captains are hoping to make a lasting impact not only on the program, but on the rest of the team both physically and mentally.
Head coach Stacy Boudreau will coach her 14th season for the women's volleyball program. She has led UW-Whitewater to five conference championships, six league tournament titles and 12 appearances' in the NCAA Tournament, which includes the 2005 National Championship.
"It has been too many years since the last one," Spera said of a possible national championship win. "This is our year."
Robinson said her teammates expect her and other key players to lead by example and with respect.
"It is really important to make sure all our teammates know we are all one team and each person plays just as important of a role as the next," said Robinson.
The Warhawks opened their 2018 season with the UW-Whitewater invite from Aug. 31 to Sept. 1.
Visit uwwsports.com for more information.