Offense and defense score in major Warhawk win
UW-Whitewater puts up most points in a game since 2006
The No. 10 Warhawks scored a whopping 73 points in a shutout against Middle Georgia State University to sweep non-conference play Sept. 15 at Perkins Stadium.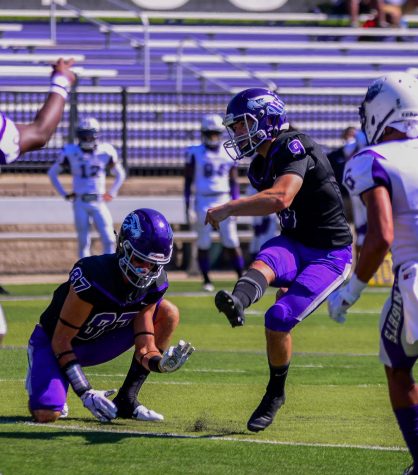 The Warhawk's score was just two points shy of tying the single game program scoring record.They now move on to conference play with a 3-0 record.
At saturday's game, University of Wisconsin-Whitewater in addition registered 554 yards of total offense while allowing the Knights to put up just 55 yards.
After the Warhawks stalled on offense in their opening drive, junior punter Andy Cooper drove his first punt inside the Knights' 2-yard line. The Whitewater defense wasted little time putting points on the board by scoring a safety on Middle Georgia State's third play of the drive.
Whitewater would score its other safety after the offense's first scoring play. Both safeties went down in less than a two-minute span.
"That really hits an offense at its core," UW-W head coach Kevin Bullis said. "We were really fortunate to get the ball down there…that's something we work really hard on is getting our guys to the goal line."
The Warhawks responded on their next offensive drive with sophomore running back Alex Peete driving into the end zone six yards out. Peete would garner a 9-yard touchdown run early in the second quarter, giving him seven scores in three games.
Despite his quality season start, Peete said that it is a full team effort when it comes to scoring touchdowns.
"The big thing is trusting the [offensive] line," Peete said. "They carry me a lot and they help me a lot."
Senior quarterback Cole Wilbur threw two touchdown passes in the first quarter, including a 44-yard catch-and-run play to sophomore wide receiver Ryan Wisniewski.
Wilbur's other touchdown featured a 19-yarder to senior wide receiver Mitchell Dess on the left side of the end zone. Both scores occurred in the first quarter.
The veteran quarterback ended his day going 7-13, 167 yards, the two touchdowns and no interceptions. 
Whitewater midway through the second quarter pulled most of its starters out of the game after the team had already posted 39 points.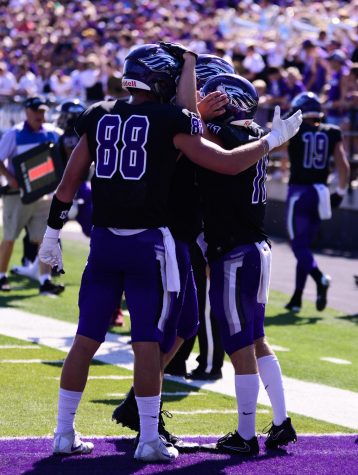 The Warhawks would manage to score two more touchdowns and a field goal to increase their halftime lead to 56-0.
"Our number one thing going into this game was that we're going to play the way that we play," senior linebacker Bryce Leszczynski said. "[Rob Erickson] told us 'we're going to run our race' which means that we're going to stick to our standard."
All five Whitewater quarterbacks got playing time, and a couple of the backups in particular displayed their potential.
Sophomore backup QB Zach Oles threw his first touchdown of the year 36 yards down the field to Cooper midway through the second frame.
Freshman backup QB Brennan Demark scored an 18-yard rushing touchdown to give the Warhawks a 66-0 lead.
Bullis noted that he looks for his backup players to stay focused when his team takes enormous leads.
"Do your job very seriously," Bullis said. "We like to see where a guy is at. That's really what that opportunity is for anybody…and you do nothing but build depth with that."
Whitewater's final scoring play featured a 10-yard touchdown run from freshman running back Nyrel Sullivan.
The Warhawks will have a bye week before coming back for Wisconsin Intercollegiate Athletic Conference action. Their first conference matchup is set to take place at UW-La Crosse Sept. 29.