Women's volleyball opens conference play with win
Women's volleyball kicked off conference play Sept. 19 with a 3-1 victory on the road against UW-Stevens Point.
The Warhawks defeated the Pointers by scores of 25-22, 15-25, 25-21, 25-18.
In the first set, the Warhawks and Pointers battled back and forth, exchanging frequent scoring runs. Stevens Point closed in the score at the end with a 5-0 run to cut the Warhawks score to 24-22, but freshman outside hitter Erin McNeil catapulted a huge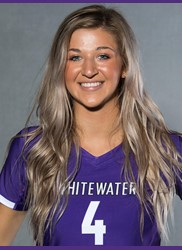 kill to claim the first set. McNeil led the Warhawks with 10 kills and added five digs and two blocks.
"Having a 'big' impact is something I try to focus on every game, including everyone else on the court," McNeil said. "I just try to do my job and execute the game plan to help my team as much as possible. When I get subbed in it is very important to me to do as much as I can and not waste anyone's time."
In the second set of the match, the Pointers were in control from start to finish and ended with a score of 15-25. In the third match, the Pointers started out with a 4-2 lead before the Warhawks came back with a 7-1 run of their own to keep the game going. Stevens Point closed in the score at 17-11, and the Warhawks kept the ball in their advantage and closed the game with a score of 25-15.
"Tonight we had a rough second set," senior middle hitter Kelley Berk said. "We gathered as a team after that set and hit a reset switch to gain back our confidence and our drive needed to take the rest of the match. Having such a mentally and physically capable team on the court and on the bench is always exciting and motivates everyone to fight each and every point we play."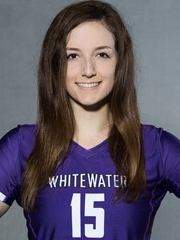 In the fourth set, the Pointers and Warhawks were back and forth in the beginning of the game, but the Warhawks took control of the fourth match which closed the game in a victory for UW-W. Ashton Doll tallied eight kills and three blocks on the night. Junior outside hitter Rachel Butterfield contributed seven kills, and senior libero Brittany Robinson led the team with 17 digs and five assists.
UW-W will continue conference play next Wednesday, Sept. 26 at 7 p.m. against rival UW-Oshkosh in the Williams Center.