Students 'Study N' Style' at library
UW-W puts twist on group studying
A new semester calls for a new event at Andersen Library.
Roughly 40 students attended "Study N' Style" on Sept. 24, a study break roundtable designed to provide grooming services and a comfortable study space for all students.
Andersen Library Public Relations and Outreach Coordinator Sarell Martin worked with both Student Diversity Engagement and Success (SDES) and the peer mentor program Brother-to-Brother on campus to plan and coordinate this event.
Assistant Vice Chancellor and head of SDES Dr. LaVar Charleston and graduate assistant of Brother-to-Brother Cornealious Cook collaborated closely with Martin to develop the idea of "Study N' Style."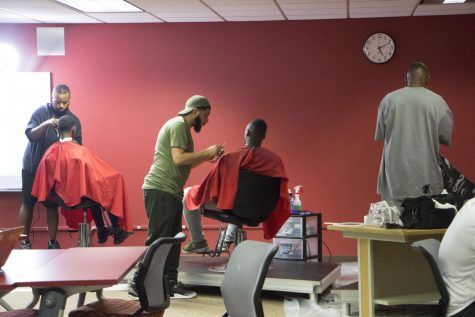 After finalizing the concept for the event and creating the marketing components, Martin said that he "personally went out and sought partnership with potential stylist and styling-shops. After several trips to Beloit, Hip Hop Stylez agreed to come and serve as a keep component in "Study N' Style."
Andersen made a specific area for studying available to students on the first floor. Along with the opportunity to get a haircut, students who attended were offered craft opportunities, snacks, refreshments and music.
Through the sharing of innovative ideas, Andersen Library director Paul Waelchli said he is proud of the steps staff members took to reach out to multiple organizations for "Study N' Style."
"It is a wonderful example of how we can work across departments and across campus to create a meaningful experience for our students," Waelchli said.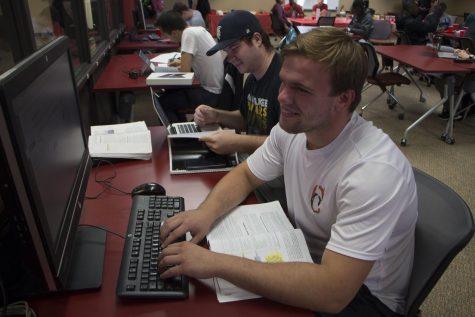 As a popular space and resource for students to study at the University of Wisconsin-Whitewater, the Andersen Library staff focuses on retaining an active role in students' academic, social and personal lives.
"Andersen Library is eager and excited to collaborate with student groups so we can foster an atmosphere where students not only view the library as a place, but as a space where they belong and can be an active part of the community within," said Andy Kramer, head of Access Services at UW-W Andersen Library.
"Study N' Style" is scheduled again for Monday, Oct. 29 and Monday, Nov. 26. Currently being discussed by management at Andersen Library is the possibility of extending sessions for this event into December as well.
As a new event for Andersen Library, "'Study N' Style' also helped redefine some expectations of what a library can be, providing students with new experiences and connections," Waelchli said.