Robinson seeks to continue stellar career
If you have ever attended a women's volleyball game this year, chances are you have seen senior libero Brittany Robinson make plays all over the court.
So far this season, the star senior has played in 77 sets, which equals out to 21 matches. She averages 5.73 digs per set, a .29 aces-per-set percentage, and .31 points per set.
"My personal goal this season is just to be the best leader I can be," Robinson said. "I know what it is like to have great leadership, and also not so great leadership, so I want my teammates to be able to look back on this year and know that our senior class really contributed to the team in a positive way."
Robinson is from Menomonee Falls, Wisconsin and attended Menomonee Falls High School, where she earned the Female Milt Blake Award due to her diligence in athletics, academics and volunteer activities. Her high school athletic achievements include first team all-conference and honorable mention all-state for both volleyball and softball, softball first team all-district and all-suburban, and volleyball third team all-area.
Robinson committed to play volleyball at UW-Whitewater in 2015, where she was named to the Wisconsin Intercollegiate Athletic Conference All-Defensive Team. In 2016, Robinson was named honorable mention All-America to the American Volleyball Coaches Association. In 2017, she was named the WIAC Defensive Player of the Year.
This season, Robinson has continued her success by breaking the program's single-match digs record with 45 against Carroll University Oct. 10 at Russell Arena.
During Robinson's collegiate career, she has been part of a WIAC title and two NCAA tournament appearances. The team has made an appearance in the NCAA tournament in 2015 and 2016, then missed the tournament in 2017 by just one game.
Robinson and her team look not only to appear in the 2018 NCAA tournament but also to win it. The women's volleyball team is very capable of this goal, especially with their recent level of play. The Warhawks are 17-4 so far, and Robinson is a huge factor in all of the team's wins.
Head coach Stacy Boudreau, who has been coaching Robinson for the past four years, says it is a privilege coaching the star veteran.
"It is extremely special to be able to coach an athlete for four years," Boudreau said. "The relationships she has built with her teammates and coaches will last a lifetime. Brittany is an incredible role model."
Kelley Berk, Robinson's fellow senior teammate from the beginning of their collegiate careers at UW-W, noted how great of a leader she is both on and off the court.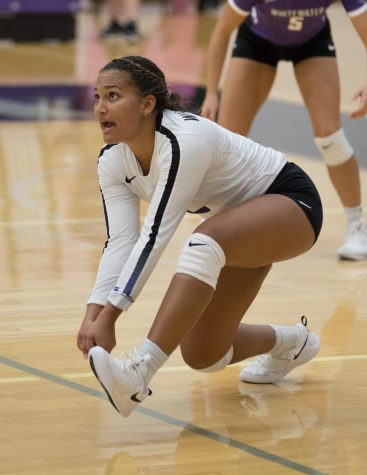 "Britt always knows what to say," Berk said. "She understands the entirety of the game of volleyball and is the student of the game…Her strong heart and positive attitude draws everyone around her to her."
"She has experience in every situation and is able to remain steady and make those around her better," Boudreau said. "Brittany has a great serve and incredible serve receive, but the best part of her game and a crowd favorite is her defense. The saves that she is able to make on the move are quite spectacular."
Robinson has proved for many years why she is an incredible athlete and a great leader through her actions on and off the court. She is a fierce competitor and is able to play at her best against the toughest competition. These characteristics have been proven through her play throughout this season and her career as a Warhawk.