Football continues season-long dominance
The Warhawks have not allowed more than seven total points scored in a single game this season
The No. 6 football team's winning streak is now at 13 dating back to last season thanks to a dominant 44-7 homecoming victory against UW-River Falls Oct. 20.
The howling 25 miles per hour wind gusts at Perkins Stadium made it more difficult than usual for both squads.
Coming into the game, head coach Kevin Bullis noted the team's game plan realizing the wind would be a factor.
"Only a handful of times in my career can I remember that we went into a game saying we want the wind," Bullis said. "We went into the game saying 'no we're going to take the wind, which people usually take the ball or defer."
The wind did not stop the Warhawks, who managed to put up at least 40 points for the third time this season.
Julia Graff
Whitewater's first scoring play featured a 26-yard touchdown run early in the first quarter by senior quarterback Cole Wilber, his third rushing touchdown as a Warhawk. The score came after Owen Schommer's punt traveled just 13 yards to the River Falls' 39-yard line because of the wind gusts.
Both of UW-W's next two scoring plays featured touchdown runs in the span of just under a minute and a half by senior running back Ronny Ponick and fellow sophomore back Alex Peete. Ponick scored on a short, 3-yard run, while Peete ran from 35 yards out.
Peete's score came in response thanks to an interception by sophomore defensive back Mark McGrath. Peete now had 11 total touchdowns on the season, 10 of which are rushing.
Ponick also had a 12-yard touchdown reception late in the first half.
Wilber finished the day going 9/15 for 137 yards and two touchdowns.
With the loud winds and solid defense helping Whitewater get good field possession for the majority of the game, Wilber noted that it is no excuse if the Warhawks do not score on a short field.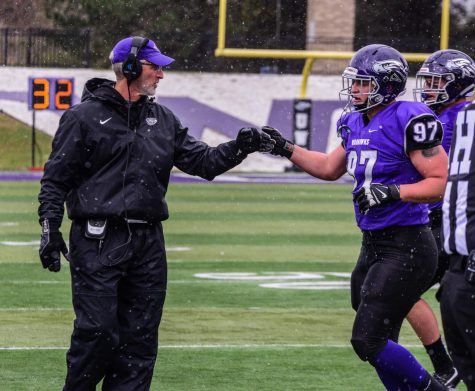 Grace Holler
"We've been saying all season that when we have 50 yards we have to score," Wilber said. "If we don't, we didn't help them [the defense] out. We got to do what they did for us."
McGrath's pick was just one of three the Warhawks forced against the Falcons, something the team has been lacking for much of the season. Junior defensive back Jacob Frey and fellow senior back Bailey Breunig caught the other interception passes.
The defense now has five turnovers in the last two games.
"We're definitely doing a lot more strip drills in practice," Breunig said. "So I think it's really starting to show in our defense. We're really starting to get turnovers these last couple games. I think coaches are doing a great job emphasizing it."
With the victory, the Warhawks have outscored their opponents this season by a total score of 274-26. The 26 points allowed through seven games is the defense's best start in over a decade.
"We knew we were going to have a good defense," Breunig said. "We knew we have a lot of faith in the offense to put up points. I don't know if we expected it to be so dramatic but we're just trusting the process and everyone's doing their job."
Bullis said the team's mentality does not change whether or not the Warhawks allow points.
"Whether a team scores or not, our process is still the same," Bullis said. "Our guys seem to almost have a sense of confidence that we're going to make something big happen, and we seem to do that."
Whitewater has three regular season games left on the schedule and will travel to UW-Stout next week. The Warhawks last year shut out the Blue Devils 14-0.