Women's volleyball takes WIAC runner-up spot
The No. 18 women's volleyball team split its week of competition by handily sweeping UW-La Crosse at home Oct. 24 then falling to No. 13 and Wisconsin Intercollegiate Athletic Conference champion UW-Eau Claire 3-1 on the road Oct. 26.
The Warhawks' victory against UW-L came on Spooky Spike Night and Senior Night. The four seniors include middle hitter Kelley Berk, setter Elizabeth Niestrom, outside hitter Amanda Sperav and libero Brittany Robinson. They were all recognized for their achievements during their careers. Over the last four years, UW-Whitewater has 104 wins, one WIAC championship, two conference tournament titles and two NCAA Tournament appearances.
"After four years of playing at Whitewater, winning meant everything," Robinson said.  "Winning the game and winning it together with the four of us all contributing meant so much. I guess time truly does fly when you're having fun."
Robinson collected 14 digs to lead the defense in the match. Freshman outside hitter Erin McNeil led the Warhawks with 11 kills and added 10 digs for a double-double. Freshman setters KellyAnn Sotiros and Paige Manssen had 19 and 11 assists.
UW-W's win over the Eagles clinched a number two seed in the WIAC tournament, and they will host a semifinal match Nov. 1.
"Playing alongside three of my best friends and taking home a great conference win couldn't be a better feeling," said senior outside hitter Amanda Spera. "It's bittersweet knowing these are some of our last collegiate volleyball games ever and I couldn't be more blessed with the people I am finishing it with right now."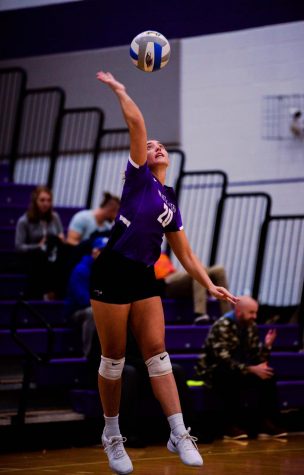 Head coach Stacy Boudreau said she is proud of the seniors' contributions this season.
"They are a great group of leaders," Boudreau said. "This year they really are doing the right things for the team both on and off the court and making that a priority as captains. Obviously, we have four different positions and each of them made a difference in each position. All of them were playing and executing really well."
Against UW-EC, Sotiros and Manssen had 27 assists and eight assists together. Robinson contributed 22 digs and McNeil led the team with 12 kills and three blocks. Berk added eight kills of her own.
Whitewater in the process fell just short of winning the WIAC, and finished the conference regular season with a 6-1 record. The team has finished above .500 in conference play every year since Boudreau's first year as head coach in 2005.