Volleyball short of WIAC tourney title
UW-Oshkosh and UW-Eau Claire have been UW-Whitewater's two biggest rivals for years.
That is what the no. 18 women's volleyball team had to go through to win its second WIAC Tournament championship in three years, but it fell just short to no. 15 UW-Eau Claire in the tournament final Nov. 3 in Eau Claire.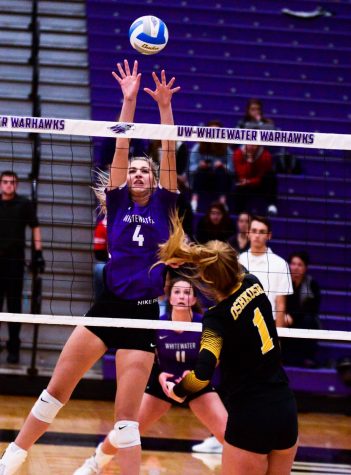 Grace Holler

The Warhawks hosted UW-Oshkosh for the WIAC Tournament semifinal at Russell Arena Nov. 1 and came out on top.
It was the Warhawks' second win in four games this season against the Titans. With this win, they traveled to no. 15 UW-Eau Claire Nov. 3, making it the Warhawks' sixth straight appearance in the WIAC Tournament final.
"The team played with so much heart in every point," junior defensive specialist Elizabeth Tworek said. "We are going to keep our fight up no matter what happens and continue in being positive throughout our journey."
Against Oshkosh, senior middle hitter Kelley Berk led the Warhawks with 15 kills, along with a hitting percentage of .364, and tied for the second-most blocks with four. Freshman Erin McNeil had 13 kills and four blocks, while junior outside hitter Rachel Butterfield put down 10 kills.
The Warhawks would move on to the tournament final against the Blugolds Nov. 3, but lost in four sets.
UW-W won the third set 25-18 after being down 2-0 but could not corrall a comeback.
"Overall, I think our team came out with a lot more passion and heart compared to the last time we played them," junior right-side hitter Rachel Butterfield said. "Working on the little things will help with the big game picture."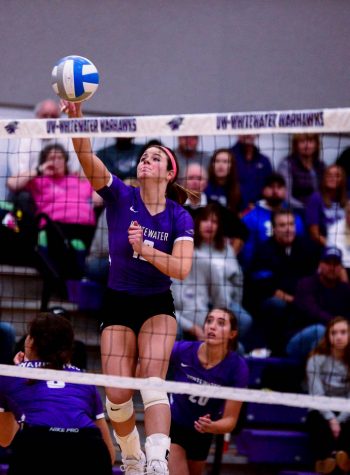 Grace Holler

Senior libero Brittany Robinson passed Kelsey Nobilio to become the program's all-time leader in career digs. Nobilio held the mark with 2,575 digs. Robinson now has 2,593.
"It honestly is a feeling I can't describe," Robinson said.  "This was one of my goals I set freshman year and to be able to accomplish it in possibly my last game ever as a Warhawk, it is a feeling like no other. I pushed myself every day and it feels great to have accomplished something I never thought I could."
The Warhawks will see if they get selected to be in the NCAA Tournament at 11:30 a.m. Nov. 5 on www.ncaa.com. Whitewater's six of seven losses came against higher-ranked opponents.